Teen Flips Water Bottle At High School Talent Show, Becomes A Total Hero
26 May 2016, 16:57 | Updated: 7 September 2017, 10:50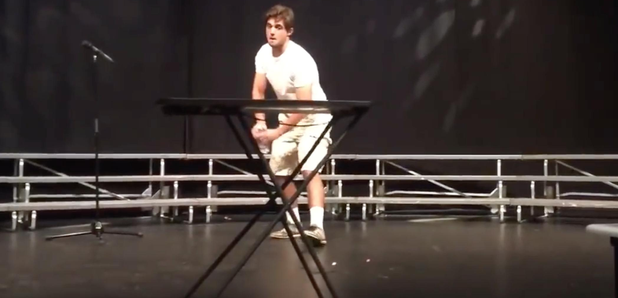 Mike Senatore's bizarre party trick has made him a household name.
A high school student chose to flip a bottle for his senior talent show, and it's sent everyone crazy.
Mike Senatore showed off the party trick at Ardrey Kell High School in Charlotte, North Carolina - timing it to music for maximum effect.
Watch the magic moment captured by fellow student, Wesley Manning, below:
@Mike_Senatore FLIPPED A WATER BOTTLE FOR OUR TALENT SHOW AND ITS THE MOST LIT THING IVER EVER EXPERIENCED pic.twitter.com/2G0GTiy2O4

— Wes (@WesleyManning6) May 24, 2016
We know what you're probably thinking. He flipped a bottle, so what?
But there's a real art to flipping water bottles and it turns out Mike's not the only one to relish in the pastime.
Twitter user Roy24k sent this impressive flipagram in response to the tweet:
@WesleyManning6 @Mike_Senatore oh we talking bottle flipping? pic.twitter.com/yzPsOSCjet

— roy24k (@roy24k) May 26, 2016
And YouTuber Atky just takes it to a whole new level:
Wow.
Picture: Twitter/Wesley Manning