The Fork Awakens: A Star Wars Pop-Up Restaurant Is Coming To London
26 April 2016, 14:26 | Updated: 7 September 2017, 10:50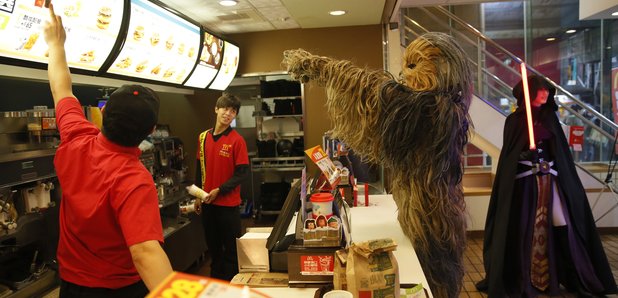 Fans can book tickets to a Star Wars-themed dining event this summer.
A Star Wars-themed dining experience is set to open in London this summer, and it's going to be called The Fork Awakens.
According to Design My Night, the pop up restaurant - which is headed for a secret London location from 21 June 2016 - is set in "Darth Vader's kingdom" and will include "hutt dogs," and "special space food".
Barrel & Forks, who create "immersive dining experiences" have also teased more culinary details, posting the menu from their Twitter account, below:
Ladies and gents, the menu for #theforkawakens is ready. To find out more visit https://t.co/69YIxuXEO7 #StarWars pic.twitter.com/C9L7hAprhQ

— Barrel & Forks (@BarrelandForks) April 19, 2016
Not much hope of it looking like this, then?
The website reveals: "The fork awakens will take Foodtroopers into an immersive journey through time and space, with many familiar encounters and interactive adventures along the way."
Star Wars fans need register online in order to be given a unique number ID, which they will receive one month before the event.
Bad luck for those hoping to plan their route early, though, as the venue to the address will be only be revealed 48 hours before your booking.
With tickets starting from £65 for the immersive experience, you may just have to make sure you chew(ie) your food extra slowly to enjoy every last bit of it...