Spraying Your Tea From A Can Is The Solution Nobody Needed, But We're Getting It Anyway...
9 September 2016, 15:33 | Updated: 7 September 2017, 10:50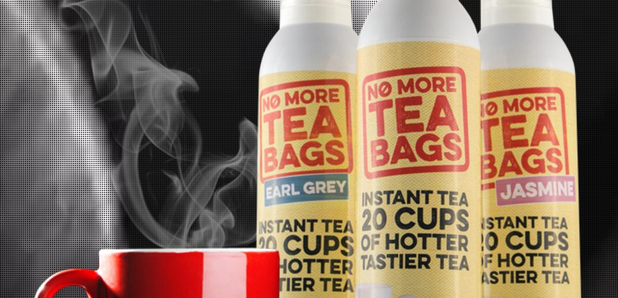 A company has developed "liquid instant tea" and it's causing a quite stir.
Ever thought to yourself, 'I wish I could just spray my tea into my mug whenever I feel like a cuppa'? No?
Well it doesn't matter, because No More Tea Bags have invented tea bag-less tea that squirts straight out of a can, anyway.
As Metro reports, the company promises to provide 20 cups of proper "liquid instant tea" without the need for a tea bag or any brewing time.
And it's not just for English Breakfast Tea, otherwise known as 'proper tea', either - they've also got Jasmine and Earl Grey.
While it's a genius idea, us Brits understandably have mixed feelings about the idea, with some calling it "voodoo" and others an "abomination".
What pure hell is? #spar you disgust me #nomoreteabags pic.twitter.com/FRQVlaaJ7w

— Kennedy (@KennedyElyse) September 8, 2016
#nomoreteabags what is this abomination?!?

— Tetley (@ipod8500) September 8, 2016
What on earth is this voodoo nonsense? Would rather start drinking coffee! #nomoreteabags pic.twitter.com/vsp5ABFu3i

— Ben Mogg (@pie_chucker85) September 8, 2016
Evils like this are why the world needs a nuclear-armed Britain: https://t.co/jOBsY5PqzH #NomoreTeaBags

— Liberty Adder (@LibertAdder) September 8, 2016
Gross I've just seen a pic of an aerosol which squirts tea no way Jose that's not normal tea in a bag or loose leaves #nomoreteabags

— Delia Cazzato (@DeliaCazzato) September 8, 2016
However, some are more open minded than others, while others are just wary of standing in the way of progress. It is voodoo magic after all.
Its the tea you want - not the soggy teabag - we give a thumbs up to #nomoreteabags https://t.co/zymxuJhqeo

— Cotswold Fayre (@cotswoldfayre) September 8, 2016
Karmic payback for mocking of #nomoreteabags pic.twitter.com/5qSHYbQjXM

— Lucy Barker (@barkerwarden) September 8, 2016
To be fair, it is pretty convenient. But this is England.
If we couldn't access tea, we probably couldn't get to any hot water either.
Plus, how else will we be able to get away with spending all that time away from our desks if we're not lovingly making our colleagues a cup of tea?
Photo: nomoreteabags.com