PHOTOS: A Sandwich Shop Made A Sign For Liam Neeson & He Turned Up
4 May 2017, 14:18 | Updated: 7 September 2017, 10:50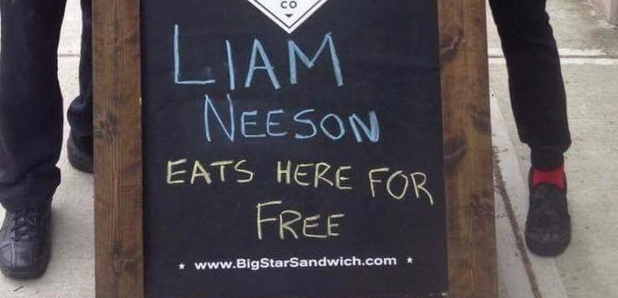 Staff at Big Star Sandwich in Canada thought they'd try their luck when they heard the actor was in town.
Well he did say he'd find them... A sandwich shop in Vancouver, Canada managed to get a visit from Liam Neeson after leaving out a sign inviting him to dine there for free.
As the Huffington Post reports, Big Star Sandwich heard the Taken star was in town filming, so they decided to coax him to their establishment with a a chalkboard, which read: "Liam Neeson eats here for free".
Luckily for restaurant staff, the actor took them up on their offer, and even posed for a pic with two of them. See their snap, which was captioned: "Holy f**k, it worked!"
The deli has since dedicated a sandwich to the star called the Neeson, which includes: "Lots of beef, a one-two-punch of bacon and hickory sticks, and spice that'll get revenge on you tomorrow!"
And how did he find them, you ask?
We'll apparently we hear he has a "very particular set of skills".
Classic.