This McDonald's Christmas Coffee Cup Is Getting A Rude Update...
13 December 2016, 12:18 | Updated: 7 September 2017, 10:50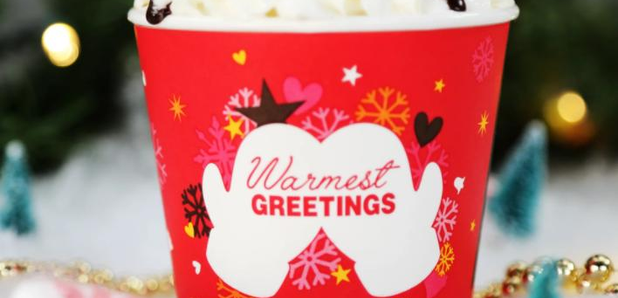 Their festive McCafé cup looks very different after a few simple alterations.
McDonald's Christmas cups are causing a bit of a stir, after fans of the fast food chain are noticing something very blue about them.
At first glance the festive McCafé cups - which are used in their new Peppermint Mocha - look innocent enough, showing what seems to be a pair of white mittens with the words "Warmest Greetings" on them. So far, so good right?
McCafé Peppermint Mocha…or as some call it, holiday perfection! Thanks @POPSUGARFood https://t.co/GvMUHDYR9y

— McDonald's Bay Area (@McD_BayArea) December 6, 2016
Well, if you look a little bit closer, and add few minor amendments in the form of drawn-on hands it actually looks a bit more like someone bending over and opening their bum.
Now you're probably thinking, 'who the hell is randomly drawing on their McDonald's cup?' Sam Sykes did, and he subsequently shared it on Twitter.
Now how the hell are Starbucks cups in the news again and no one's talking about a guy spreading his cheeks open on McDonald's cups pic.twitter.com/QmIuZiDJst

— Sam Sykes (@SamSykesSwears) December 11, 2016
That gives a whole new meaning to the words Christmas spread!
Photo: Twitter/MacDonald's BayArea/Pop Sugar