Laziest Dog Owner Ever Caught "Walking Dogs" While Driving His Car
2 August 2016, 16:40 | Updated: 7 September 2017, 10:50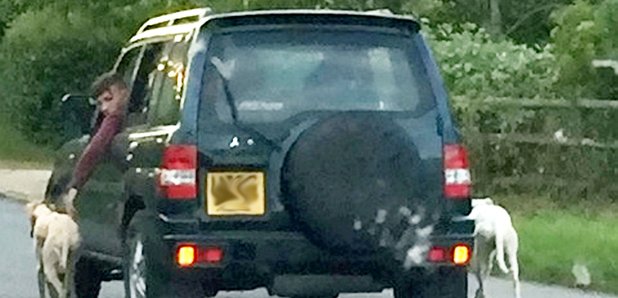 The RSPCA have condemned the motorist, who was spotted dragging the pets from the windows of his 4x4.
A man dubbed the laziest dog owner has been condemned by the RSPCA, after he was spotted dragging two dogs from his 4x4 near Sandhurst, Gloucester.
Fellow motorists were left in shock when they saw a man driving as his pets walked on the main road, with leads which were fed through the car windows.
If that wasn't enough, one witnesses claimed two children or young teens were helping to "walk" the dogs as he drove.
A witness said: "The driver dragged the dogs for miles and there was a queue of cars behind him.
"I asked my wife to take the pictures after I saw the two dogs getting squashed by a car coming from the opposite side of the road."
The RSPCA have slammed the careless and "extremely dangerous" act, with a spokesperson stating: "An accident could so easily happen not only to the dogs, but also could be a danger to other road users.
"We would strongly urge people not to do this with their dogs as it is extremely dangerous and irresponsible.
"Dog owners have a legal responsibility to help protect their pet from hazards however these dogs were put in a potentially very hazardous and dangerous situation."
Witnesses of animal cruelty can call the RSPCA on 0300 123 4999.
Photo: SWNS