Watch Rod Stewart's Hilarious Appearance On The Scottish Cup Draw
23 January 2017, 10:24 | Updated: 7 September 2017, 10:50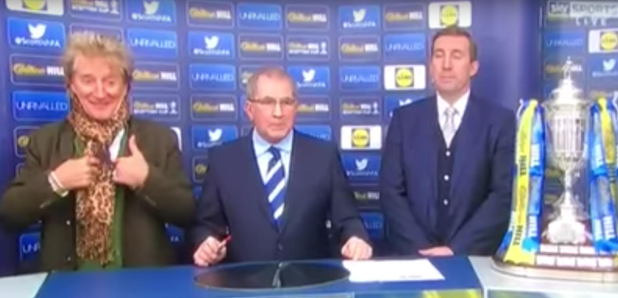 The legendary crooner left viewers thinking he appeared drunk on the Sky Sports programme.
Rod Stewart delighted fans when he made an appearance on the Scottish Cup draw on Sunday (22 January).
The legendary rocker lent a hand to proceedings by selecting teams to play against one another in the 5th round, but prompted footy fans to think he was drunk due to his over-the-top gestures.
Watch him in action here:
Twitter was quick to assume the Maggie May singer had had a few too many, with one calling it the highlight of his year so far.
A pissed up Sir Rod Stewart doing the Scottish Cup draw is my highlight of 2017 so far. pic.twitter.com/fz1sdhEv0v

— Richard Downey (@RichDowney) January 22, 2017
A pissed Rod Stewart doing the 5th Round Scottish Cup draw pic.twitter.com/hubIkO8vM1

— Football Fights (@footbalIfights) January 22, 2017
Fans can't bevvy at a game. Players cannae put a line on. But a pissed up Rod Stewart can do the William Hill Scottish Cup draw. Amazing

— Alan Temple (@alanftemple) January 22, 2017
Rod Stewart during the Scottish Cup Draw.... pic.twitter.com/wlEGLKSrKZ

— Fr Dougal McGuire (@DougalMacGuire) January 22, 2017
Well, we don't call him Sir for nothing...
Absolutely mind-blowing. Deeply honoured to be Sir Roderick Stewart. - Rod xxx pic.twitter.com/KPBPlJ8D57

— Rod Stewart (@rodstewart) October 11, 2016
Sir Rod has plenty of reason to celebrate, after being knighted in 2016 and celebrating his 72nd Birthday on 10 January this year.
The First Cut Is The Deepest star is also set to headline Isle Of Wight festival, wrapping up the four-day event on Sunday 11 June.