WATCH: Inmates Escape Jail Cell To Save A Guard Having A Suspected Heart Attack
8 July 2016, 13:30 | Updated: 7 September 2017, 10:50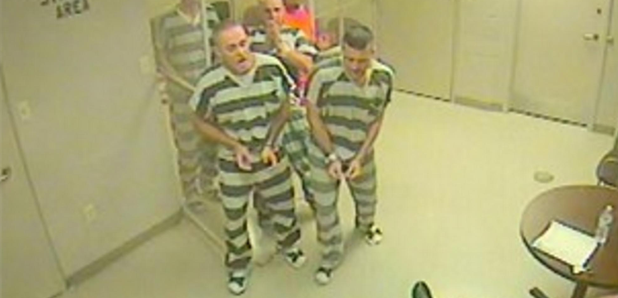 Prisoners at the Texas Parker County Jail managed to help the jailer while their hands were tied.
Footage has captured the moment inmates broke out of their holding cell to help a guard who was suffering from a suspected heart attack.
According to AFAA, the prisoners from the Texas Parker County Jail leapt into action when they saw their guard appear unresponsive and slump towards the floor.
Watch the video uploaded by WFAA, below:
After alerting police officers by banging and shouting, the inmates were corralled back into their cell before staff members practiced CPR and paramedics were called to the scene.
When asked why they opted to try and save the jailer, despite knowing it could dangerous it could be for them, one of the inmates Nick Kelton replied: "Cause that's a good man. We had to save his life."
He added: "It never crossed my mind not to (help him). Whether he's got a gun or a badge, if he falls I'm helping him.
Captain Mark Arnett also told the news station the prisoners likely saved him, saying: "He could have been there 10,15 minutes before any other staff or county personnel could have found him."
According to the report, the holding cell has now been reinforced to ensure prisoners can no longer break out again.