Free Pizza And A "Thank You" Apparently Keeps People Most Motivated At Work...
30 August 2016, 16:35 | Updated: 7 September 2017, 10:50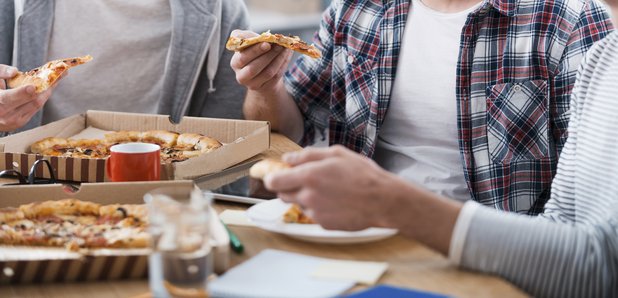 Research found that free food proved to be more of an incentive than small cash bonuses.
Research has found that when it comes to the work place, a simple thank you or a compliment goes a long way towards motivating staff.
Oh, and free pizza...
As Metro Online reports, in Dan Ariely's new book, Payoff: The Hidden Logic That Shapes Our Motivations, he carries out research in an Intel factory in Israel, in which four groups of workers were offered three types of incentives.
Every morning, workers were sent one of three emails, either being promised a small cash bonus of around £22, a thank you from their boss or a free pizza voucher if they finished their tasks, while the fourth group didn't receive an email at all.
After one day of the study, Ariely found that pizza was the biggest motivator, with productivity levels 6.7% higher than those who received no reward, while the promise of a personalised compliment increased productivity by 6.6%, and a small cash bonus increased productivity by 4.9%.
Surprisingly, after a full week - presumably once they'd stuffed their faces with too much pizza - compliments became the biggest motivator, while the bonuses made workers 6.5% less productive than those who received nothing at all.
So, what have we learned from this? People really like to be appreciated, but they also really like free food. Because everyone knows food tastes much better when it's 100% free.
So what are you waiting for? Send this 100% scientifically proven study to your boss immediately! Doesn't science taste great?