Nordstrom Is Selling Jeans With Fake Mud for $425...
26 April 2017, 14:05 | Updated: 7 September 2017, 10:50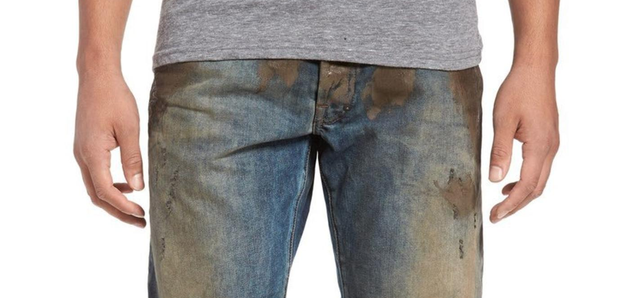 The clothing retailer has taken customising jeans to a whole new level, and people aren't having it.
First pre-ripped jeans and ridiculously expensive "distressed" band t-shirts and now this: Nordstrom is selling jeans complete with fake mud, and you can get your hands on them for a snip at $425 (£331).
The clothing store have launched their "Barracuda Straight Leg Jeans," describing them as "Americana workwear that's seen some hard-working action with a crackled, caked-on muddy coating".
See them in all their ahem... authentic beauty here:
Nordstrom is selling "heavily distressed" muddy jeans for $425 https://t.co/AsmnoKtBi0 by #vagax2 via @c0nvey pic.twitter.com/Z2Xr0T85Uk

— Mr Brown (@MrBrownnnnn) April 26, 2017
Naturally, people have taken to social media to mock the the product, while others have suggested their own alternatives.
Nordstrom has jeans w/ fake mud for $425. What's next? An entire wardrobe that looks like we survived a tiger attack? #mudjeans #bloodjeans

— Eric Lee Huffman (@EricLeeHuffman) April 25, 2017
You know @GMA ,I have plenty of jeans with grease on them that look quite fashionable!I will hit up @Nordstrom buyers!#fashionrevolution

— Dina Parise (@DPariseRacing) April 26, 2017
Beauty Buzz - Nordstrom selling jeans with fake mud on them for over $400...WTF?!?!

— Dawn Feorenzo (@panski85) April 26, 2017
#Nordstrom if u r thinking about buying fake dirty jeans, just come out and work with me one day, u will earn a pair

— Brian Mixan (@bmixan) April 26, 2017
#Nordstrom is selling more than just fake mud jeans. Their latest release is as bold as ever. pic.twitter.com/H160hdq7FE

— Chris David Miles (@chrisdavidmiles) April 25, 2017
I am going to make the new @Nordstrom 'mom' line...shirts with fake spit up and jeans with kids' hand stains @GMA! #Billion$Idea #Mompreneur pic.twitter.com/i3ZLQtNvN8

— ihelpmoms.com (@momsrheroes) April 26, 2017
And that's not the only shameless new product to generate a few laughs either. Recently, high-fashion designer Balenciaga released a tote which bore a striking resemblance to Ikea's handy shopping bags... except their creation is priced at an eye-watering £2,145.
See it here:
Who wore it better? Balenciaga or IKEA? pic.twitter.com/LCB9Qri2xN

— Mikael Pawlo (@mpawlo) April 18, 2017
Ikea were quick to ride the wave, and trolled the brand with their very own ad campaign.
Ikea responds brilliantly to the £1670 Balenciaga bag which looks just like their iconic Tote bag #wednesdaywisdom pic.twitter.com/nDCGlc7gw4

— 00 Design Co. (@00digital) April 26, 2017
Bravo Ikea. Bravo.
Photo: Twitter/Nordstrom