The Most Popular "Indie" Funeral Song Has Been Revealed, And It's Not Oasis...
31 August 2016, 14:21 | Updated: 7 September 2017, 10:50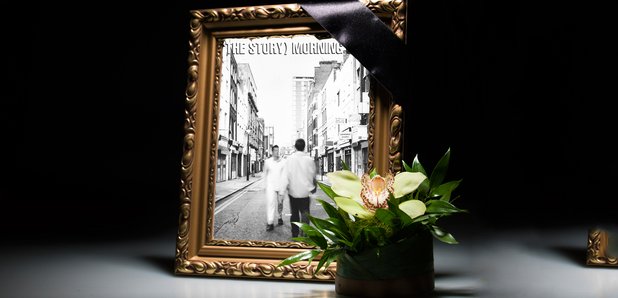 Can you guess who's beaten the Manchester band to the top spot?
The most popular funerals songs have been revealed, and some of them might surprise you.
Co-operative Funeralcare have undertaken their annual funeral music study, which gathered data from over 30,000 funerals in the UK to list the top music chosen for final send-offs.
Unsurprisingly, the most popular choice overall was Frank Sinatra's My Way, but, when breaking their findings into "specific genres," they found a much more interesting picture.
Despite Oasis songs dominating the 'indie" music category with four tracks, it was Snow Patrol's Chasing Cars - made famous by Grey's Anatomy - which pipped them to the post.
Oasis singles Wonderwall, Don't Look Back In Anger, Live Forever and Champagne Supernova feature in second, third, fifth and tenth place.
Other surprising results saw Arctic Monkey's Arabella at fourth place, while Coldplay's Yellow which came in eighth place, was beaten in the chart by their relatively new track, Hymn For The Weekend.
See the Top 10 Indie funeral tracks below:
1. Chasing Cars, Snow Patrol
2. Wonderwall, Oasis
3. Don't Look Back In Anger, Oasis
4. Arabella, Arctic Monkeys
5. Live Forever, Oasis
6. Hymn For The Weekend, Coldplay
7. One Day Like This, Elbow
8. Yellow, Coldplay
9. Goo Goo Dolls, Iris
10. Oasis, Champagne Supernova
Elsewhere, Led Zeppelin's Stairway To Heaven topped their "rock" charts, closely followed by Meatloaf's Bat Out Of Hell and AC/DC's Highway To Hell, proving that the British sense of humour is still alive and well.
See the Top 10 Rock funeral songs below:
1. Stairway To Heaven, Led Zepellin
2. Bat Out Of Hell, Meatloaf
3. Who Wants To Live Forever, Queen
4. Wish You Were Here, Pink Floyd
5. Highway To Hell, ACDC
6. Another one bites the dust
7. Bohemian Rhapsody, Queen
8. Don't Wanna Miss A Thing, Aerosmith
9. Knocking On Heaven's Door, Guns 'N' Roses
10. Spirit In The Sky. Norman Greenbaum
David Collingwood, Head of Funeral Operations said: "Funerals are very much about personal choice and reflecting the personality, hobbies and interests of a person.
"More so than ever we're seeing people pre-plan their funeral music and in the last 12 months, 42% of our funeral directors and arrangers have received ready-made pre-planned funeral playlists."
It's not all about traditional music, however, with the Coronation Street theme tune topping the film and TV music list, while Liverpool FC's You'll Never Walk Alone came first in the sport category.
Looking forward, Co-op Funeralcare reckons the Game Of Thrones theme tune could feature in future charts, with 1 in 20 UK adults choosing it as a song they would consider for their own funeral.
Well, it's definitely dramatic enough...