Is This The Most Expensive Pizza In The World? It Costs £1,600!
3 January 2017, 11:34 | Updated: 7 September 2017, 10:50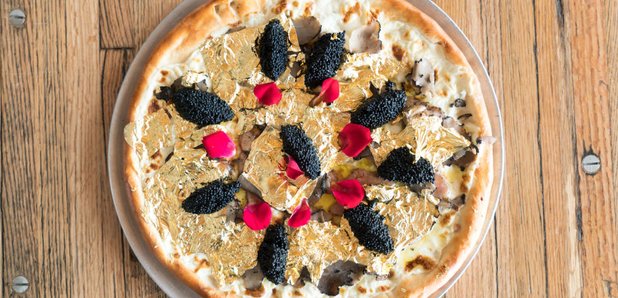 A New York restaurant is offering a gold-flaked pizza for £2,000 - which works out at about £200 a slice.
What's the most you've ever splurged on a meal? Chances are you've never bought a pizza that's worth over a grand… but now's your chance.
New York restaurant Industry Kitchen is offering patrons a pizza that comes priced $2,000 (approximately £1,628 at current exchange rates). That works out at about $250 (£203) a slice. Now that's luxurious.
Why's it so expensive, you ask? Well, it's MADE OF ACTUAL GOLD.
The "24k" as it's known, comes with 24 carat gold flakes from Ecuador and also includes white Stilton cheese flown in from England, French foie gras and truffles and one of the most expensive types of caviar, Ossetra from the Caspian Sea.
Industry Kitchen's Executive Chef Braulio Bunay told society magazine Town And Country that he was inspired to come up with the wallet-worrying dish by wealthy patrons from the nearby financial district.
He said: "It is the epitome of decadence. The pizza is extremely rich—if you're in the mood for a lavish meal, this is the pizza for you."
But you can't just swing by this lunchtime and grab a slice - the kitchen needs 48 hours notice to cook up this amazing pizza.