Someone's Made Morrissey And Nick Cave Vegan Cookbooks
1 November 2016, 07:50 | Updated: 7 September 2017, 10:50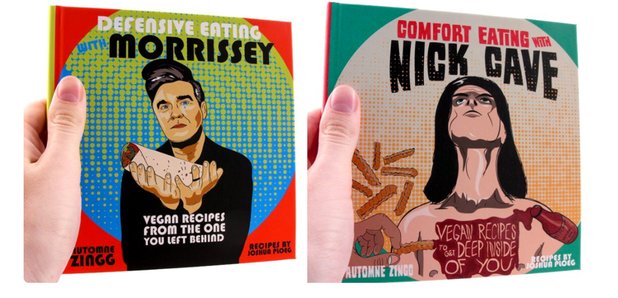 See the awesome new recipe books inspired by the famous vegan rockers.
Ever wondered what you get when you mix the classic cookery book and your favourite musical vegans?
Thanks to the latest offerings from Microcosm publishing you need ponder no more. The aptly titled, Defensive Eating with Morrissey: Vegan Recipes from the One you Left Behind and Comfort Eating with Nick Cave: Vegan recipes to Get Deep Inside You have arrived just in time for World Vegan Day!
Take a look at these inspired cookbooks here:
Christmas presents sorted thanks to @Microcosmmm https://t.co/e9WotA47DK pic.twitter.com/QwG5rth4DD

— Tom EatYourOwnEars (@EatYourOwnEars) October 29, 2016
Each colourful book is written and illustrated by Automne Zingg, with recipes provided by Joshua Ploeg - and it's fair to say they both have a sense of humour.
They contain over 50 vegan-friendly recipes, which come with a side order of the artist pictured "soothing himself with delicious, comforting meals, from mac and cheez to mushy peas."
Of course both musicians are themselves published authors; Morrissey released his debut novel just last year, after successfully completing his Autobiography in 2013.
Cave meanwhile has made multiple contributions to our bookshelves, with his 2013 novel The Sick Bag Song being his latest release as a novel writer.
Could the next big thing in vegan cooking come from one of these guys? We'd like to think so –Meat is Murder so Cook Vegan perhaps? The joke writes itself.
Photo: Twitter/AUTOMNE ZINGG/Microcosm publishing