WATCH: Two Metal Bands Grant Fan's Last Wish By Throwing His Ashes Into A Moshpit
6 May 2016, 12:45 | Updated: 7 September 2017, 10:50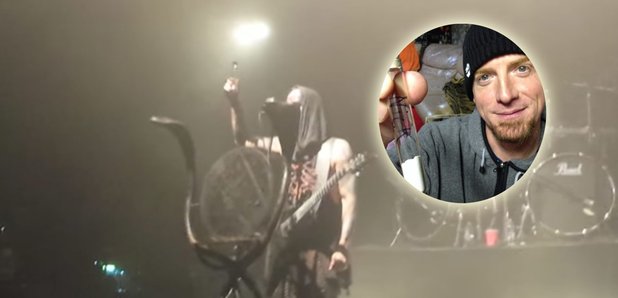 Dying Fetus and Behemoth both paid tribute to their fan, Nick, by fulfilling his dying wishes.
Two bands have granted the final wishes of a fan who passed away, by throwing his ashes into their moshpits.
American death metal band, Dying Fetus and Polish outfit, Behemoth, both paid tribute to mega-fan, Nick from Illinois, during their gigs.
Before scattering Nick's ashes at their Chicago gig, Behemoth's frontman Adam Darski said: "I have never done this before, but I'd like to say farewell to our friend and massive Behemoth fan."
He added: "His name was Nick. All I've got to say is, wherever you are, rest in peace, my friend."
Watch the moment it unfolded below:
David Rich, who also appears to be Nick's friend, wrote in the YouTube video description: "I take nick's ashes with me every show that i go to so that he is there with me and at shows that he's missing out on. i love you nick. thank you so much Adam Nergal for doing this i couldn't have been happier. i appreciate this more then you know."(sic)
This week, Dying Fetus followed suit, first writing a Facebook post asking their fans what they thought.
Soon enough the band confirmed they had scattered his ashes "in the pit" during the gig to his favourite song, Homicidal Retribution.

Nice.
Picture: Facebook/Dying Fetus, YouTube/David Rich/Behemoth