Watch Jon Bon Jovi Get Forced To Sing Living On A Prayer At A Private Wedding...
8 July 2016, 11:41 | Updated: 7 September 2017, 10:50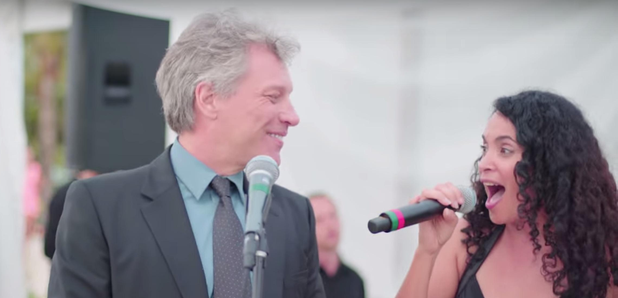 The rocker was gently forced to sing one of his biggest hits at a wedding reception in Miami.
We all know how annoying enforced karaoke can be, but no one could possibly feel as bad as Jon Bon Jovi, who was forced to sing his own song at a recent wedding.
The New Jersey rocker was attending a private wedding in Miami, when the wedding singer began singing Living On A Prayer.
Soon enough, Jon was cajoled into singing the song, but it's fair to say he wasn't overly keen.
Watch the video, uploaded by Cool Coconut Studios, below:
Poor guy!
According to the Associated Press, the wedding band - fronted by Jazz singer Lourdes Valentin - knew the rocker was attending the wedding and prepared the song in advance.
Speaking to the AP, Valentin revealed she approached Bon Jovi before the reception to ask if he would sing and he declined, so she was "very surprised" when he eventually did.
No wonder he had a face like thunder at the beginning.
Pictures: YouTube/Cool Coconut Studios