WATCH: When John Barnes Did The World In Motion Rap On The Tube...
8 August 2016, 11:29 | Updated: 10 January 2018, 11:24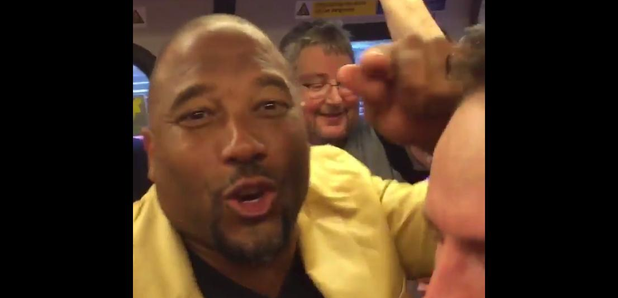 Celebrate the former England footballer entering the Celebrity Big Brother house by remembering the time he reprised his famous rap on public transport.
John Barnes is set to enter the all-female Celebrity Big Brother house this Friday (5 January), and we're celebrating by remembering the time the football legend's best moments.
Summer 2016 saw Liverpool fan and Twitter user, Daniel McCafferty, travelling home after watching his team play Barcelona at Wembley Stadium, when he bumped into the football legend on the London Underground.
With tons of encouragement from McCafferty and friends, Barnes rapped his famous part on '90s football track, World In Motion, pretty much making everyone's year in the process.
Watch it below:
Okay so this just happened... Tube on way back from today's game! #lfc #johnbarnes #digger Pls r/t pic.twitter.com/gfxL3VP1Tk

— Daniel McCafferty (@THEREALMCAFERTY) August 6, 2016
If that wasn't enough Barns even took a few photos with Daniel's friends and family members.
Is it us, or is he also ageing in reverse?
My lad with Jonny B yday! #lfc #johnbarnes #Wembley pic.twitter.com/7u0lv9JRWW

— Daniel McCafferty (@THEREALMCAFERTY) August 7, 2016
Legend.
Photo: Twitter/Daniel McCafferty