Unofficial "Tube_Chat" Badges Send Londoners Into Panic
29 September 2016, 12:46 | Updated: 7 September 2017, 10:50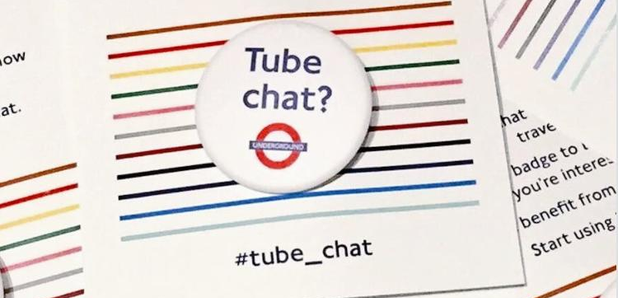 TFL has confirmed the badge isn't official, but that hasn't stopped people having a laugh about it.
An unofficial Transport For London badge has been doing the rounds, and it's sent Londoners into an absolute panic, because obviously, no one actually want's to chat or be friendly on the underground.
The badge started trending on Twitter, putting fear into the hearts of (almost) every Londoner who saw it.
Would rather crawl to work than wear one of these if I'm being honest... #tube_chat #introvertproblems pic.twitter.com/njOrfw2AU9

— Flock London (@flock_london) September 29, 2016
TFL was quick to confirm that the badge was unofficial, instead sending a link to their latest "Please offer me a seat" creation.
The #tube_chat badge is not an official TfL badge to find out more about our official badges & a new trial see here https://t.co/KGZ8aDViIr

— Transport for London (@TfL) September 29, 2016
However that didn't stop people reacting to it with fear, anger and of course - hilarity.
Cuba Libre and Taylor Learmouth seemed to fall into the angry category:
What is this #tube_chat bullshit?? When I'm tired, hungover, squashed into a door..elbow in my face why would I want a chat? Fuck right off

— Cuba Libre (@carpenoctem_0) September 29, 2016
can we also have a 'fuck off' badge? #tube_chat

— Taylor Learmouth (@taylorlearmouth) September 29, 2016
This lot were skeptical to say the least...
#tube_chat if I see someone wearing that badge I'm going to suddenly find the floor fascinating.

— Maggie Jones (@MaggieLDNguide) September 29, 2016
Not sure about these #tube_chat badges... maybe being a cynical Londoner but can't seem them working...

— Rupa Sudra Bharadva (@writingmonkee) September 29, 2016
And a LOT of people had an issue with the hashtag:
The funniest part about #tube_chat is the underscore. I've honestly never seen anyone use one in a hashtag before. A++++ social media.

— Lily Melrose (@llymlrs) September 29, 2016
I don't know what's worse: the concept of #tube_chat or the fact that they used an underscore in a hashtag. #fail

— Paddy Johnston (@paddyjohnston) September 29, 2016
Whereas this person just summed up the problem with the badge perfectly:
The point #tube_chat misses is that if we didn't want to be anti-social arseholes, we wouldn't be living in London to begin with.

— London Film Fanatiq (@LondonFilmFan) September 29, 2016
Some even made their own hilarious alternatives.
Somebody enterprising would make a killing selling these at underground stations. #tube_chat pic.twitter.com/mOdHuaAFWm

— Melodipopvision (@melodipopvision) September 29, 2016
Got mine #tube_chat pic.twitter.com/UyJepk0vd3

— So says (@Patriotic_Paul) September 29, 2016
Love this alternative to the #tube_chat badge pic.twitter.com/Xe01eJ8njR

— Cora Bauer (@corabauer) September 29, 2016
Bravo Londoners. Bravo.
Everyone knows tube time is quiet time.. unless of course you run into a rock star:
This is so cool. How @NoelGallagher got to the U2 gig in London last night. pic.twitter.com/ZukiHkIbpu

— Nobby (@NobbyFM104) October 27, 2015
Legend.