Inside David Cameron & Arnold Schwarzenegger's Snapchat...
6 February 2017, 12:57 | Updated: 7 September 2017, 10:50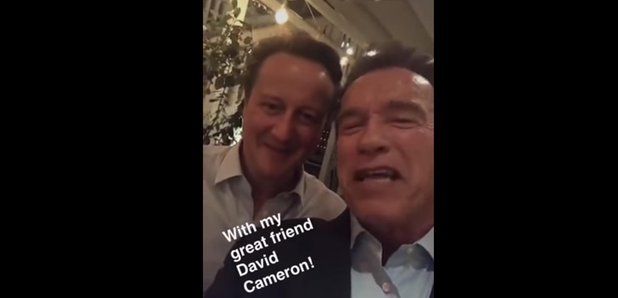 Watch the as the former Prime Minister tells followers: "I'll be back".
Let's face it: unless your dad's David Beckham, we don't want to see him anywhere near social media.
So, when David Cameron and Arnold Schwarzenegger joined forces to post a snapchat video last week, we all died a little bit inside.
Watch them in action below:
In the clip where the former politicians look a little worse for wear, the Terminator actor says: "I'm with my good friend David Cameron, from England, the ex-prime minister."
Cameron then adds: "I'm with the governor. He did a great job, and I'll be back."
While the former Prime Minister - who stepped down following the Brexit result - may have just dropped the actor's most famous line for LOLs, could he have been hinting at a return to politics?
Although the pair are self-confessed pals, their video could be seen as another pot-shot against the current US President Donald Trump.
Earlier that week, Trump called on people at the annual National Prayer Breakfast to "pray" for Schwarzenegger after he took over hosting The Apprentice, and ratings appeared to take a dive.
However, the actor and former California governor didn't take Trump's remark's lying down, posting a video which offered Trump the chance to "switch jobs" so people can "finally sleep comfortably again".
Watch his video below:
The National Prayer Breakfast? pic.twitter.com/KYUqEZbJIE

— Arnold (@Schwarzenegger) February 2, 2017