WATCH: This Circus Fail Is Why We'll Never Volunteer To Go On Stage...
13 May 2016, 17:45 | Updated: 7 September 2017, 10:50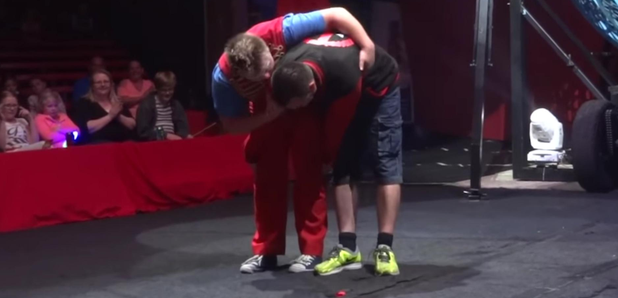 See the moment Ben Garnham was literally swept off his feet at a circus in Blackwood, South Wales.
Volunteering to be part of a magic trick or demonstration on stage can be embarrassing and cringe-worthy, but when this dad decided to offer himself up for lols at a circus, it turned out to be dangerous.
Ben Garnham, from Cefn Fforest, Wales, attended the circus for the first time with his daughters Jade (22) and Amber (19) on Monday night.
The father of three was asked on stage to help performer Ben Coles perform a trick, but it all went a bit pear-shaped after the clown accidentally knocked him out cold.
Watch the video from 00:40 seconds:
Speaking to South Wales Argus, he said: "From what I remember, he didn't explain what he was actually going to do. He said, 'Push against the back of my legs' and that was the last thing I really remember."
"I just thought he was going to pretend to do something but not actually do it to get a laugh, explained the self-employed DJ." I thought he was just going to squirt me with water or something.
"It looked more like a wrestling move".
He concluded: "I'm so lucky. I could've died or been paralysed."