When Bryan Cranston Left A Note In His Book At Heathrow...
7 March 2017, 15:51 | Updated: 7 September 2017, 10:50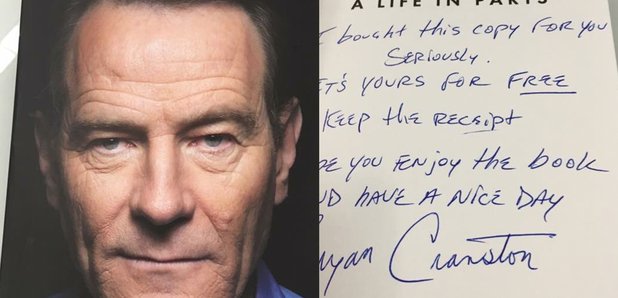 We remember the Breaking Bad star's awesome gesture on his 61st Birthday.
Bryan Cranston has left a free copy of his autobiography and a surprise note for a lucky fan at Heathrow airport's Terminal 5.
According to Kate De Ban, who was shopping at WHSmiths at the London terminal, the Breaking Bad star bought and signed one of his books and left it for an unsuspecting fan.
See an image of Cranston's book and the message he left here, which De Ban's friend posted on Twitter, below:
Amazing thing that happened to my friend @kdeban at Heathrow Airport today. #BryanCranston pic.twitter.com/3MA2zajfEh

— Matthwoooo Turner (@FilmFan1971) October 27, 2016
In her Facebook post, De Ban explains: "So I Saw a man writing in the front of a book in WHSmiths. A bit hunched over. leaning on a table display, he looked kind of familiar but under a baseball cap... and I thought, that's cool, someone has obviously recognised him and he's signing a book for them.
"But then I watched as he went over to the wall of books and I couldn't see what happened next there were more displays in the way.
"When he got back up and turned he caught my eye and smiled. So after he left I went over to see what was what and found this Talk about cool.
"Right time and right place for a proper treat. Thank you Bryan Cranston for making my day".
What. A Legend.
Note to self: check EVERY book next time you're at an airport bookshop.
Photo: Twitter/FilmFan1971, Facebook/KateDeBan