Bill Murray & President Obama Had Epic Banter While Putting Golf
13 December 2016, 14:31 | Updated: 7 September 2017, 10:50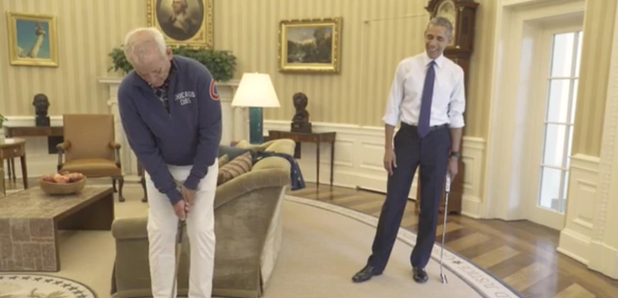 Watch The White House video, which was released to encourage citizens to register for health insurance.
It's not long until Donald Trump is sworn in as the 45th President of the United States, which means Barack Obama hasn't got much time left in The White House.
Naturally, Obama's using his time in the Oval office wisely, by raising awareness for his citizen's health insurance rights, while putting golf and hanging out with the absolute legend that is Bill Murray.
Watch the video, which was posted on the White House's Twitter account, below:
Don't putter around. Head to https://t.co/GNfbft9Ewv by December 15th to #GetCovered starting January 1st, 2017. https://t.co/X4R4hhC5Fe

— The White House (@WhiteHouse) December 12, 2016
Absolute legends.
Obama might not be the President for much longer, but he's definitely got a career in acting ahead of him!
Photo: Twitter/The White House