WATCH: This Socially-Awkward Dog Isn't Feeling This Pool Party
17 June 2016, 13:34 | Updated: 7 September 2017, 10:50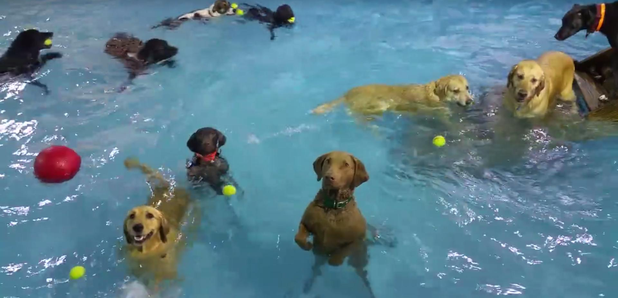 You know when you go to a party and you don't really know many people there? And you kind of hang out in the kitchen or by the bar feeling a bit, well… awkward?
Well, it appears that this dog feels exactly the same way as you do - and it's even worse. It's a pool party.
Watch the clip and see what we mean. The pool party is full of lively doggies, swimming about, playing with tennis balls and generally having a great time. Except one.
A single brown retriever just stands in the middle of the pool as the mayhem goes on around her. She stares at the camera as if to say "What now? Is this it?"
The video of the doggy pool party was shared by the Happy Tails day care camp in Norfolk, Virginia, USA. Receptionist Kayla Jones told Today that the dog's name is Beya and that "She'll hang out all day if we let her.
"She will swim around, do some laps but her comfort zone is where she's just hanging out. Every so often she might kick a paw out."
The clip has already had over 14 million views on Facebook.
We know how Beya feels. At some parties, you're just not feeling it.
To quote the words of Morrissey about an awful clubbing experience: "And you go and you stand on your own / And you leave on your own / And you go home and cry and you want to die."