WATCH: 82-Year-Old John Hetlinger Performs Bodies With Drowning Pool At Open Air Festival
18 July 2016, 15:38 | Updated: 7 September 2017, 10:50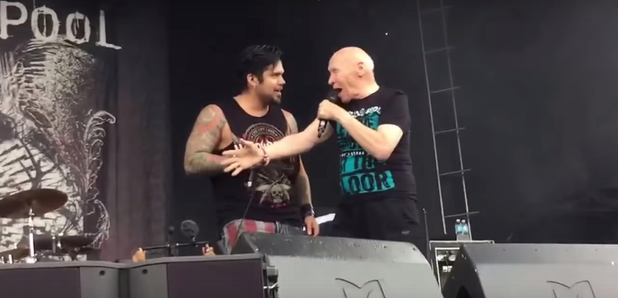 The Octogenarian appeared on stage with the band at the Chicago festival last week.
Last week we reported that John Hetlinger, who sang Drowning Pool's Bodies on America's Got Talent, would appear with them on stage at Open Air Festival.
Now footage has emerged of the glorious moment when they performed the 2001 track together at the Chicago event last Friday (15 July).
Watch the video, uploaded by Annie Atlasman, below:
What a guy.
Before the performance the band posted a picture of themselves "preparing to rock with John," much to the delight of their fans.
However, it looks like Drowning Pool weren't the only ones who wanted to hang out with the unlikely rocker, posting this snap of him with revellers at Ink In The Clink Festival in Ohio.
See Hetlinger's original American Got Talent audition which kicked it all off here:
Watch the original video to Drowning Pools 2001 hit below: