This Is The Best Selling British Album Of All Time...
5 July 2016, 13:29 | Updated: 5 July 2016, 13:32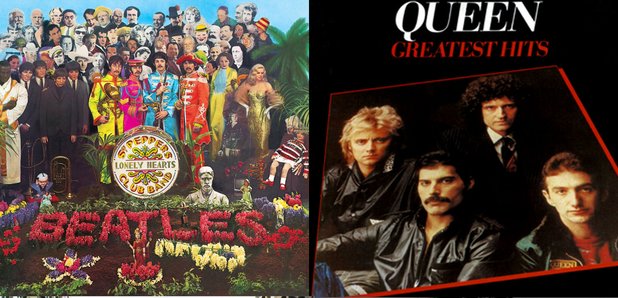 See who else has made the Official Charts Company's "60 at 60" list here.
Queen's Greatest Hits has been named the UK's best-selling album of the last 60 years.
The Official Charts Company are celebrating 60 years this month with their "60 at 60" list, which names the biggest albums of the last six decades.
Queen's 1981 Greatest Hits collection - which includes anthems such as Bohemian Rhapsody and Another One Bites The Dust - stands alone as the first and only album to have sold over 6 million copies in the UK with 6.1 million sales to date.
The band's 1991 compilation, Greatest Hits II, also makes it into the Top 10 at Number 10 with almost 4 million albums sold.
The albums are are joined in the rankings by The Beatles' Sgt Peppers Lonely Hearts Club Band, Adele's 21, and Oasis' (What's The Story?) Morning Glory, which come in at third, fourth and fifth place respectively.
See the full Top 10 below:
1. GREATEST HITS, QUEEN
2. GOLD – GREATEST HITS, ABBA
3. SGT. PEPPERS LONELY HEARTS CLUB BAND, THE BEATLES
4. 21, ADELE
5. (WHAT'S THE STORY?) MORNING GLORY, OASIS
6. THRILLER, MICHAEL JACKSON
7. THE DARK SIDE OF THE MOON, PINK FLOYD
8. BROTHERS IN ARMS, DIRE STRAITS
9. BAD, MICHAEL JACKSON
10. GREATEST HITS II, QUEEN