Peter Crouch Hosts Brand New Radio X Show
19 July 2017, 09:00 | Updated: 7 August 2017, 10:23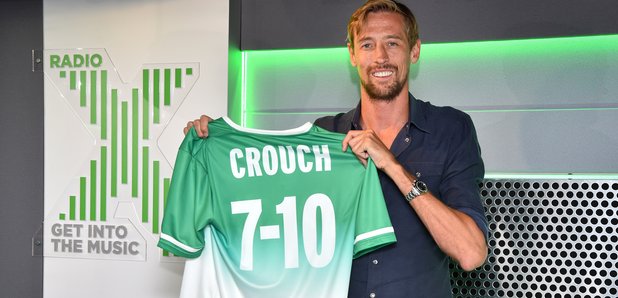 The footballing legend will be guest sitting in for Gordon Smart over the next two weeks, beginning at 7pm on Monday 24 July...
Radio X is excited to announce that none other than Peter Crouch will guest present week nights and Sunday afternoons on Radio X for the next two weeks.

The England and Premier League legend will make his debut as a radio presenter on Monday 24 July as he takes the reins on the Radio X Evening Show and Sunday afternoons while regular host Gordon Smart is on holiday.

Peter Crouch is one of the nation's most popular footballers. A cult hero both on and off the pitch, his love of music is well known after he famously celebrated a win by crowd-surfing at a Kasabian gig.



Peter says: "I love Radio X and the music the station plays so I'm excited about being in the hot seat. I have a few stories I'm looking forward to sharing and some visitors I'm looking forward to welcoming to the studio. All will be revealed next week!"
If that's not cause for celebration, then what is?
Matt Deverson, managing editor of Radio X, said: "As well as being one of the best loved footballers of his generation, Peter Crouch is well known for his passion for music and legendary sense of humour.
"He is a huge fan of the music we play on Radio X so I know he's looking forward to entertaining listeners, playing his favourite records as well as revealing a story or two from his incredible career. We can't wait for him to get behind the mic for what I'm sure will be a hugely entertaining couple of weeks."

Listen to Peter Crouch on Radio X, week nights 7-10pm from Monday 24 July and Sundays 1-4pm.

Radio X is on 104.9 FM in London, 97.7 FM in Manchester and on digital radio right across the UK, on mobile via the Radio X app and online at radiox.co.uk.