OK Go make their most incredible video yet - in zero gravity!
12 February 2016, 09:00 | Updated: 12 February 2016, 14:37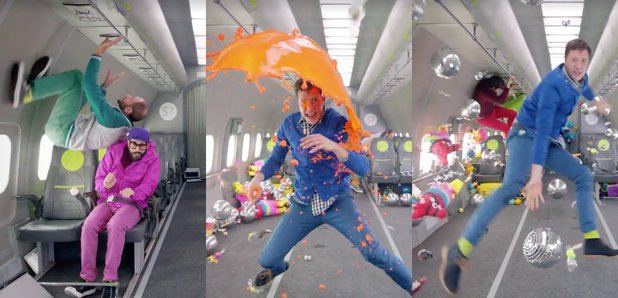 The US band's latest gimmick-laden clip is their most impressive yet - they are literally floating in space
Take a look at this. OK Go are known for their wacky, well rehearsed and immaculately executed videos... but this takes them to the next level.
The clip for new track Upside Down And Inside Out sees the band messing about inside a plane as it undergoes ZERO GRAVITY.
Hello, Dear Ones. Please enjoy our new video for "Upside Down & Inside Out". A million thanks to S7 Airlines. #GravitysJustAHabit

Posted by OK Go on Thursday, 11 February 2016
According to the local press, the band have wanted to make a video like this for at least a decade and eventually pulled it off thanks to Russian airline S7, who kitted out the band with an IL-76 plane. The plane would pull an aerial manoeuvre that would simulate weightlessness - a useful effect that helps trains astronauts and was also used in making the film Apollo 13 with Tom Hanks.
The video was shot over three weeks and 21 flights at the Yuri A Gagarin Cosmonaut Training Centre in Star City. That's more than an actual astronaut would undertake in real training. Russian site Sostav.ru adds that when when each period of weightlessness ended, the music would stop and the performers would wait for the next zero-G moment… and continue shooting from where they left off.
The four band members were joined by Russian gymnasts Anastasia Burdin and Tatyana Martynova, who played stewardesses.

"It's a crazy feeling," say the band about the whole zero-gravity experience. We believe them. Upside Down And Inside Out is the latest track to be taken from the album Hungry Ghosts.
It's all a far cry from the video to OK Go's debut single, Get Over It. Four lads in a room, playing music. Is that ALL?