WATCH: What Happened When Noel Gallagher Interviewed Man City Manager Pep Guardiola...
5 July 2016, 12:28 | Updated: 5 July 2016, 13:15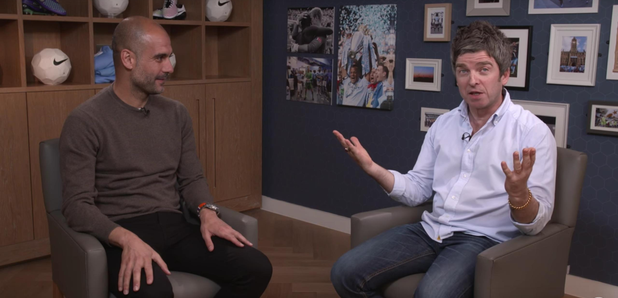 The Oasis legend met the new Man City gaffer for a historic first interview, where they talked about Coldplay and James Blunt.
Noel Gallagher's not one to hide his love of football or Manchester City FC.
So when he was asked to interview his football team's new manager, Pep Guardiola, he obviously jumped at the chance.
Watch the video below - where Pep gets grilled on everything from Coldplay to whether he's up for the "intensity" of the job:
Soon after the interview the Ballad Of The Mighty I singer shared their selfie on his Instagram, calling him "the messiah".
Noel Gallagher previously gave Pep his seal of approval when he was first signed back in February this year, by pledging to lick his face next season.
We feel a new bromance coming on..
Meanwhile, Noel Gallagher paid tribute to Caroline Aherne by dedicating Half The World Away to her on stage in Nashville, after she lost her battle with cancer, aged 52 on Saturday (2 July).
Speaking to the crowd at his gig at the Ryman Auditorium in Nashville, Texas, he said:"I'm going to dedicate the following song to a friend of mine who died this afternoon. Her name was Caroline, she used this next song in a very very very brilliant sitcom called The Royle Family.
"To wherever you are"
Watch the touching moment below:
Picture: YouTube/Man City