Night Of The Living Dead Director George A. Romero Dies, Aged 77
17 July 2017, 09:00 | Updated: 17 July 2017, 18:19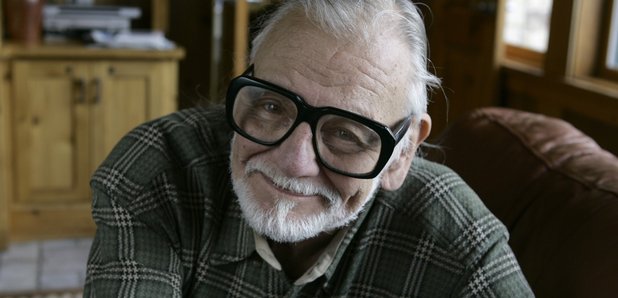 See tributes from everyone from Stephen King to Simon Pegg for the filmmaker, who died following an "aggressive battle with lung cancer".
George A. Romero has died.
The legendary horror movie writer-and-director - who was best known as creator of zombie film Night of the Living Dead and a string of sequels - passed away on Sunday (16 July) at the age of 77, following a "brief but aggressive battle with lung cancer".
George passed away in his sleep while listening to the score of one of his favourite films, 1952's The Quiet Man with his wife Suzanne Desrocher and daughter Tina Romero by his side.
Following the news of his passing, a number of stars and fellow directors have paid tribute to the Martin filmmaker.
Cabin Fever director Eli Roth hailed George as a huge inspiration to him.
He wrote in a series of tweets: "Hard to quantify how much he inspired me and what he did for cinema ...
"Romero used genre to confront racism 50 years ago. He always had diverse casts, with Duane Jones as the heroic star of NOTLD. Very few others in cinema were taking such risks. He was both ahead of his time and exactly what cinema needed at that time.
"You can trace a direct line from NOTLD to Get Out. And ... Romero created the modern zombie. The infectious bite. Shoot the head. Everything."
Filmmaker Guillermo del Toro praised George's work on "singlehandedly" pioneering zombie horror.
George is gone. One of the greatest ever. creator of the modern Zombie-as-undead-cannibal myth and dear friend of mine...

— Guillermo del Toro (@RealGDT) July 17, 2017
He told Rolling Stone: "George created an entire subgenre in cinema. He singlehandedly forged the tale of the cannibalistic undead Zombies.
"Before him, the Zombie existed mainly as a vague Afro-Caribbean myth about the powers of Voodoo and such.
"What George did is give us, in them, a dark mirror in which we can reflect socially; to learn what in them remain us and what it is to be human.
"George was an iconoclast, an untamed mind and a liberal thinker who used horror to illuminate the darkness around us."
Rob Zombie - who directed the Halloween remake - told his fans he was stunned by the news.
He wrote on Instagram: "I can't believe George Romero has died. All the zombies owe him everything! He was the master."
Horror writer Stephen King tweeted: "Sad to hear my favorite collaborator -- and good old friend -- George Romero has died. George, there will never be another like you."
Sad to hear my favorite collaborator--and good old friend--George Romero has died. George, there will never be another like you.

— Stephen King (@StephenKing) July 16, 2017
Sean Of The Dead co-creator Edgar Wright shared a tribute on his website, along with an image of himself and Simon Pegg featuring as zombies in his Land Of The Dead film.
Wrote this on the late, great George Romero, to whom I owe a film career. https://t.co/eSaKaRndDC pic.twitter.com/UPMZn3WRrD

— edgarwright (@edgarwright) July 17, 2017
His Cornetto Trilogy partner, Pegg, also shared an image on Twitter, writing: "George A. Romero 1940-2017. An inspiration and a hero."
George A. Romero 1940-2017. An inspiration and a hero. pic.twitter.com/wqTyHRyYP6

— Pegg News (@simonpegg) July 17, 2017
The pair were heavily influenced by the late filmmaker and used his Dawn Of The Dead as inspiration for their cult classic and comedy take on the genre, Shaun of the Dead:
Watch the trailer for Dawn of the Dead here:
Watch this classic scene from Shaun of the Dead below: