"Why Elmo?" Musicians Respond To UK General Election Results
9 June 2017, 11:08 | Updated: 9 June 2017, 11:44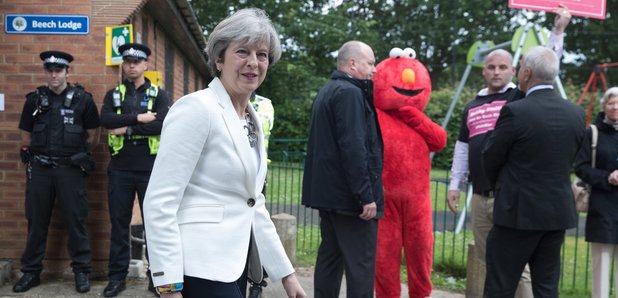 As Great Britain gets used to the idea of a hung parliament, stars have been commenting on what's being seen as a significant turn-out for young voters.
The UK went to the polls yesterday (8 June) for the snap General Election, called by Prime Minister Teresa May and as the country woke to the announcement of a hung parliament, the stars of entertainment and music reacted to the unexpected news.
While the Conservatives were the party with most seats, they don't have the outright majority needed to form a government, meaning a hung parliament. PM Teresa May is expected to head to Buckingham Palace later on Friday to propose an alliance with the the Democratic Unionist Party in Northern Ireland and form a new government.
The situation was flagged up by left-wing singer-songwriter Billy Bragg in the early hours of the morning.
It's hung! We haven't won but Tories have been humiliatingly defeated. After all Corbyn has been through, this feels like victory. To bed!

— Billy Bragg (@billybragg) June 9, 2017
Wolf Alice singer Ellie Rowsell praised the high turnout from young voters, which was reported as being around 72% for those aged 18-24.
Look what we did without the backing from the media! Look what we did without the backing from the millionaires! Hope prevails! Love ya Jez

— ellierowsell (@elliecrowsell) June 9, 2017
Irvine Welsh, Trainspotting author, tweeted:
Got to hand it to Corbyn. Had the establishment, media, most of his own party, all trying to undermine him. May would have topped herself.

— Irvine Welsh (@IrvineWelsh) June 9, 2017
Blink-182's Mark Hoppus offered a baffled American take on the whole thing, including a comment on the line-up of candidates for Teresa May's Maidenhead constituency, featuring Lord Buckethead - whose manifesto included free bikes for everyone and the nationalisation of Adele - and independent candidate Bobby Smith, whose mother dressed as Elmo to campaign.
I don't understand the UK election results. Did the good side win? Is Brexit still? Why Elmo? Looks like everyone just came from the darts.

— Mark Hoppus (@markhoppus) June 9, 2017
Meanwhile, in Scotland, Franz Ferdinand's Alex Kapranos was a bit annoyed at how things were turning out as the SNP lost a third of their seats...
Scotland...

What the FUCK are you doing, voting Tory?

Are you INSANE????

— alex kapranos (@alkapranos) June 9, 2017
Blur drummer Dave Rowntree, himself a councillor in Norfolk, posted the following:
That election was Theresa May's best effort. Imagine how badly she'd cock up the Brexit negotiations. #ge2017

— David Rowntree (@DaveRowntree) June 9, 2017
Liam Gallagher, always active on Twitter, summed it the state of play in the country pretty succinctly:
Ch ch ch ch changes turn and face the strange as you were LG x

— Liam Gallagher (@liamgallagher) June 9, 2017