VIDEO: Gerry Cinnamon Slams "Snakes And Pretenders" In Music Game
8 August 2018, 12:04 | Updated: 10 August 2018, 12:04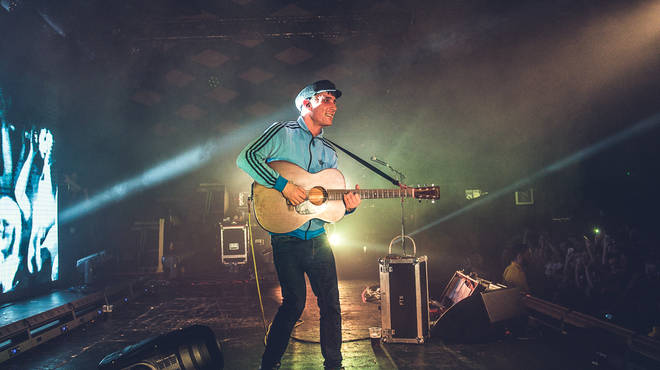 The Sometimes rocker has shared a lengthy post on Instagram about the nature of fame and the music industry.
Gerry Cinnamon has taken to social media to reflect on the "music game".
The Scottish singer-songwriter, who's known for his grassroots beginnings and his phenomenal fanbase, has written a lengthy post about some of his negative experiences in the industry.
The rocker shared a video of himself performing on stage, which begins with the caption: "This music game is some laugh. It would be class if it wasn't chock full of snakes and pretenders that don't give a fuck about music all competing to step on each other but you can't win them all."
See his Instagram post below:
He continued: "Most folk you meet have some weird agenda thats either money or self promotion and it makes shit weird. Does my box in. I find it really difficult to take it all seriously. There's money to be made but if you don't care about money then where does that leave you?
"Since day one I've had one foot on the stage and other half way out the door so I don't become one of these cunts."
Speaking about his Lullaby track, which is the second track on his Erratic Cinematic album, Cinnamon added: "That's what lullaby is about. Sing me to sleep is asking someone to do me a favour and put a bullet in my dome if I ever become that person because I'll be dead inside already. My wee ma asked what the song was about and when I told her she said "You're already a dick". Which is class. That's why I always give her a shout out at the shows.
"Where my heads at just now Ive got a ton load of bangers I'm gny record and drop soon as I can and then I'm outta here and someone else can get in about it cos it's wasted on me. You can fuckin ram it."
Listen to Lullaby in full here:
However, the Castlemilk singer ended his lengthy post on a positive note, suggesting the feeling he gets from performing and seeing the crowd makes it all worthwhile.
"Now and again though i see wee things like this video and I remember that mad feeling,' he mused.
"The feeling you get when you're with your pals and it's all kicking off and you're singing words that you love and the crowds bouncing in sync all around you and your hearts pounding and there's booze flying and there's pyro popping and you're on some mad guy you've never met's shoulders all caught up in the moment getting a major buzz off the noise and the mad energy and I think fucking get that right in about me right now."
Cinnamon concluded: "Suddenly it all makes sense again. And I'm back in the game. Easy."
Gerry Cinnamon is headed to the inaugural RiZE festival this year, which takes place on 17-18 August.
He'll also headline Leith's EH6 Festival on Sunday 25 November, before playing his own sold-out headline dates in December.
See Gerry Cinnamon's full live dates here.