Stone Temple Pilots Announce First Show Since Chester Bennington's Death
3 November 2017, 12:47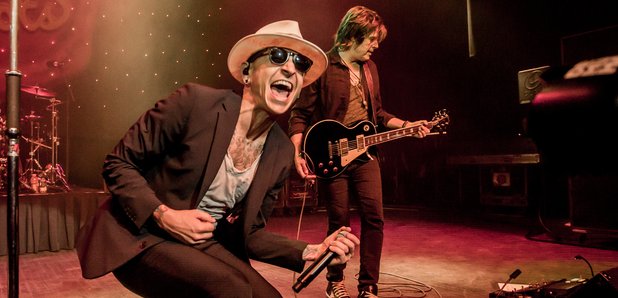 The band, who were originally fronted by the late Scott Weiland, will be expected to also announce the name of their new singer.
Stone Temple Pilots are expected to announce Chester Bennington's replacement in a newly-announced show.
The rockers will perform their first show since the death of former frontman Chester Bennington, and are expected to name their new singer at the gig.
The US rockers have been without a frontman since the late Linkin Park singer quit the group in 2015 to spend more time with the 'In the End' hitmakers, and they are set to name their new vocalist at an invitation-only gig, their first since Chester died in July.
According to Blabbermouth, the Creep rockers - made up of brothers Dean DeLeo and Robert DeLeo as well as Eric Kretz - will return to the stage on Tuesday 14 November for a show at The Troubadour in West Hollywood, California.
The band sent out a special email to SiriusXM subscribers offering "a limited number of complimentary tickets" for the gig, with attendees set to be chosen at random.
It will be the group's first show since a one-off reunion event with Chester in California in March 2016.
Chester joined the Stone Temple Pilots in 2013 after they fired original frontman Scott Weiland, who was found dead on his tour bus in December 2015 aged 48.
Following Scott's sacking, the band went through 15,000 submissions searching for a new frontman.
Dean said: "We had 15,000 submissions that the three of us personally went through; I mean, it was a big deal to go through all those submissions.
"And there were some great people. It was just a matter of trying to find someone who really had all we were requiring of someone."
It's not known who the group's new frontman will be as of yet, but two names who have been mooted are former X Factor wannabe Jeff Gutt and Filipino singer John Borja.
Meanwhile, Linkin Park played their first live show together at Chester Bennington's tribute concert last week.
At the gig, band co-founder Mike Shinoda debuted Looking For An Answer- his tribute track for his late bandmate, which was written just eight days after his passing.
Watch the emotional performance below: