These Are The Most Streamed Halloween Songs Around The World...
30 October 2018, 17:31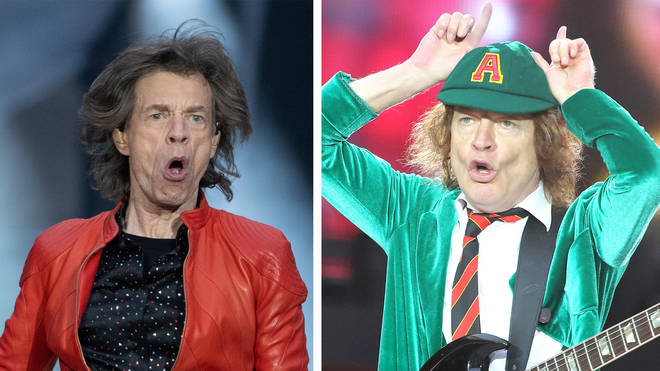 The likes of AC/DC and The Rolling Stones make up the list, which is topped by Michael Jackson's Thriller.
A list of the most streamed songs globally and in the UK has been released by Spotify, and unsurprisingly Michael Jackson's Thriller takes the top spot.
The global list throws up a few surprises, however, AC/DC's Highway To Hell, Talking Heads Psycho Killer and The Rolling Stones Sympathy For The Devil featuring at 5th, 14th and 15th place respectively.
Watch The Rolling Stones play Sympathy For The Devil at London Stadium:
Also in the Top 20 most globally-streamed tracks was the ELO's Evil Woman, Stevie Wonder and The Cranberries Zombie.
Other Halloween bash favourites included in the list were the Ghostbusters theme tune by Tay Parker Jr., the Monster Mash by Bobby "Boris" Pickett & The Crypt-Kickers and Time Warp by Little Nell.
See The Top Streamed Halloween Songs Globally:
1. Michael Jackson - Thriller
2. Ray Parker, Jr. - Ghostbusters
3. Bobby "Boris" Pickett & The Crypt-Kickers - Monster Mash
4. Blue Öyster Cult - (Don't Fear) The Reaper
5. AC/DC - Highway to Hell
6. The Citizens of Halloween - This Is Halloween
7. Warren Zevon - Werewolves Of London
8. Rockwell - Somebody's Watching Me
9. DJ Jazzy Jeff & The Fresh Prince - A Nightmare on My Street
10. Santana - Black Magic Woman
11. Stevie Wonder - Superstition
12. Screamin' Jay Hawkins - I Put a Spell on You
13. Electric Light Orchestra  - Evil Woman
14. Talking Heads - Psycho Killer
15. The Rolling Stones - Sympathy for the Devil
16. Ozzy Osbourne - Bark at the Moon
17. Oingo Boingo - Dead Man's Party
18. The Cranberries - Zombie
19. Little Nell - Time Warp
20. Whodini - Freaks Come out at Night
Despite Michael Jackson's Thriller also topping the UK's most streamed list, the most streamed songs in the UK paint a slightly different picture.
However, with The Rolling Stones failing to make the list, Talking Heads' Psycho Killer is much popular in Blightly, featuring on the list in 9th place.
Shockingly, two versions of the Time Warp made it into the list, with the Glee Cast's version of the track reaching number 11, while the original placed at number 16.
See The Top 20 Streamed Halloween Songs in the UK:
1. Michael Jackson - Thriller
2. Ray Parker, Jr. - Ghostbusters
3. Bobby "Boris" Pickett - Monster Mash
4. AC/DC - Highway to Hell
5. Blue Öyster Cult - (Don't Fear) The Reaper
6. Rockwell - Somebody's Watching Me
7. The Citizens of Halloween - This Is Halloween
8. Stevie Wonder - Superstition
9. Talking Heads - Psycho Killer
10. DJ Jazzy Jeff & The Fresh Prince - A Nightmare on My Street
11. Glee Cast - Time Warp (Glee Cast Version)
12. Warren Zevon - Werewolves Of London
13. Will Smith - Men In Black
14. Whodini - Freaks Come Out at Night
15. Screamin' Jay Hawkins - I Put a Spell on You
16. Little Nell - Time Warp
17. Santana - Black Magic Woman
18. Daryl Hall & John Oates - Maneater
19. Dead Or Alive - You Spin Me Round (Like a Record)
20. Shakira - She Wolf