WATCH: LInkin Park Share One More Light Fan-Made Lyric Video
4 October 2017, 17:29 | Updated: 3 November 2017, 23:25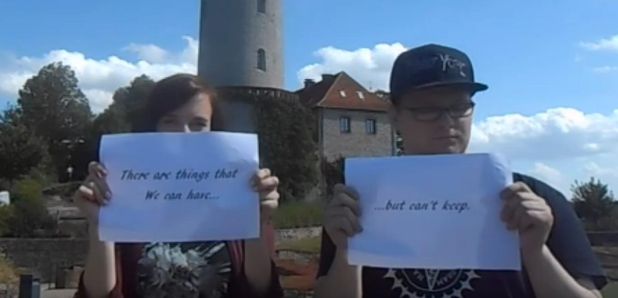 Watch their latest clip, which sees fans from around the world pay tribute to the late Chester Bennington.
Linkin Park have shared another video for their One More Light single.
This latest video, which was created by Nicola Drilling, features Linkin Park fans from all over the world holding up the lyrics to the heartfelt track.
Watch it here:
It comes after the band shared a video of Chester Bennington during an intimate pre-gig moment.
Watch it here courtesy of Linkin Park's official Twitter page:
The video - which sees their frontman making up a lighthearted ditty about "unicorns and lollipops" - is captioned: "Cherishing all the times Chester made us laugh. Taking a look back at some of our favorite LPTV moments."
Last month, Korn guitarist Brian Welch confirmed he'll attend the Chester Bennington tribute concert on 27 October, after his previous comments about the One More Light rocker.
Shortly after hearing of the Linkin Park frontman's tragic suicide, the Blind guitarist accused his friend and fellow rocker of taking the "cowardly way out".
He later issued a statement apologising for his outburst, which he claimed came as a result of him being "heartbroken" by the news.
Recently, Welch explained in his Instagram post: "When I heard the news about our friend Chester Bennington I was so sad, hurt and angry. In my shock and confusion I didn't know how to process my feelings correctly. I spoke out from a broken heart and I want to thank the LP camp, and all of my friends and fans for the forgiveness, understanding and grace that was extended to me. I am honored to celebrate Chester's life with our boys in LP, their fans, and many of my friends and colleagues in the music industry. @linkinpark @chesterbe#celebratelife".
As well as headline act Linkin Park - who will be performing without their late frontman for the first time - Brian Welch will join the likes of Blink-182, Avenged Sevenfold members M. Shadows and Synyster Gates, several members of System of a Down, Yellowcard singer William Ryan Key, and solo artist Kiiara, who featured on Linkin Park track Heavy.
Listen to Chester Bennington's isolated vocals on Numb:
Money raised from the concert will go to Music for Relief's One More Light Fund in memory of the late singer.
Back in September, Talinda Bennington also shared a heartbreaking video of her late husband, which was taken just 36 hours before his passing.
Watch it here:
Taking to Twitter she wrote: "This is what depression looked like to us just 36 hrs b4 his death. He loved us SO much & we loved him. #f**kdepression #MakeChesterProud".
Photo credit: Twitter/Linkin Park