Brian Welch: Linkin Park Have Forgiven Me For Bennington Comments
25 September 2017, 15:54 | Updated: 25 September 2017, 17:40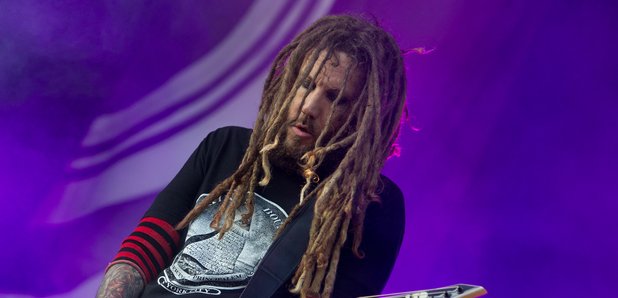 The Korn guitarist has taken to Instagram to confirm he will be at the Chester Bennington tribute concert, after previously slamming the late rocker.
Korn's Brian Welch has taken to social media to confirm he will join various acts at Chester Bennington's tribute concert next month.
Shortly after hearing of the Linkin Park frontman's tragic suicide, the Blind rocker accused his friend and fellow rocker of taking the "cowardly way out".
He later issued a statement apologising for his outburst, which he claims came as a result of him being "heartbroken" by the news.
Now, it seems the remaining members of Linkin Park have forgiven him, as he will now take to the stage alongside Korn frontman Jonathan Davies at the memorial concert being held in Chester's honour on 27 October.
He explains in his Instagram post: "When I heard the news about our friend Chester Bennington I was so sad, hurt and angry. In my shock and confusion I didn't know how to process my feelings correctly. I spoke out from a broken heart and I want to thank the LP camp, and all of my friends and fans for the forgiveness, understanding and grace that was extended to me. I am honored to celebrate Chester's life with our boys in LP, their fans, and many of my friends and colleagues in the music industry. @linkinpark @chesterbe#celebratelife".
As well as headline act Linkin Park - who will be performing without their late frontman for the first time - Brian Welch will join the likes of Blink-182, Avenged Sevenfold members M. Shadows and Synyster Gates, several members of System of a Down, Yellowcard singer William Ryan Key, and solo artist Kiiara, who featured on Linkin Park track Heavy.
Listen to Chester Bennington's isolated vocals on Numb:
Linkin Park singer Mike Shinoda recently revealed he was unsure about performing at the concert until he spoke to legendary producer Rick Rubin, who told him he'd be delivering a "cathartic experience" to their fans.
Mike said: "I had gone to Rick Rubin as a source of guidance. He said, 'I think you guys need to get onstage.' I think that'll be the thing that'll feel good. It'll be super, super hard. We haven't gone out together in public, we haven't played.
"[He said] 'The fans want to see you. Not because they want to see a show, there's a cathartic experience that needs to happen and it'll inform what you guys are doing.'"
Money raised from the concert will go to Music for Relief's One More Light Fund in memory of the late singer, and tickets are on sale now.
Talinda Bennington also shared a heartbreaking video of her late husband, which was taken just 36 hours before his passing to show how hidden his suicidal thoughts were.
Watch it here:
Taking to Twitter she wrote: "This is what depression looked like to us just 36 hrs b4 his death. He loved us SO much & we loved him. #f**kdepression #MakeChesterProud".
Photo credit: PA/Katja Ogrin/ EMPICS Entertainment