LadBaby will not release a Christmas single this year
21 November 2023, 13:00 | Updated: 21 November 2023, 13:09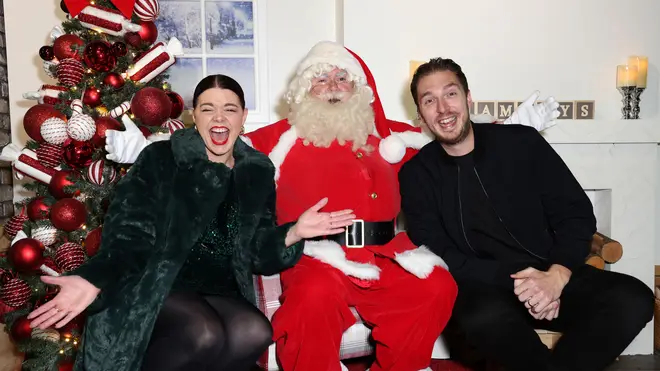 The YouTubers, whose real names are Mark and Roxanne Hoyle, have said they will not make a bid for their sixth consecutive Christmas number one.
LadBaby have ruled themselves out of the running for Christmas number one.
The YouTube sensations and husband and wife team - whose real names are Mark and Roxanne Hoyle - broke a record with five consecutive festive chart toppers surrounding Mark's love of sausage rolls, while raising funds for the food bank charity The Trussell Trust.
However, the pair have decided to "pass the baton" to other artists and songwriters this year.
Speaking exclusively with Metro.co.uk: "So everyone has been asking you've been asking for weeks emails and DMs when you meet me at the Post Office. Are we going for another Christmas number one this year? The answer is no."
He added: "We are not. We've had the most amazing, incredible loving, life-changing five years. And we want to say thank you. Thank you for helping us put The Trussell Trust on the map putting them in the forefront of everyone's mind at Christmas, a time which is about giving the time which is about supporting families. And we just want to say thank you. We never expected one for the charity let alone five Christmas number ones. You guys have been incredible."
He added: "We started on this journey five years ago to make a song about sausage rolls that made people laugh but also did it for a good cause raised money and awareness for The Trussell Trust, something that was close to our heart food banks in the UK. We did that one we built this city on sausage rolls.
"And then you all said you wanted I Love Sausage Rolls so, of course, we did it we did I Love Sausage Rolls, and that was it.
"But as we all remember we were hit with the global pandemic. And so many of you reached out to us and said you wanted a song to lift your spirits and to make you laugh, and we knew that it was hitting food banks in a way that not even we could have seen coming. So we did it. We did a third one. And then we get contacted by Ed Sheeran, the legend Ed Sheeran."
Roxanne, otherwise known as LadBabymum, 39, interrupted: "And Elton John!"
He continued: "Ed Sheeran slipped into my DMs, can we all just remember that moment. That gave us the opportunity to release a song that would put The Trussell Trust on the map in a way we couldn't achieve on our own.
"So thank you, Ed Sheeran and Sir Elton John, for releasing a song with us about sausage rolls and again getting behind with the charity. And then we have an opportunity to work with Band Aid, the biggest most important Christmas song in any of our lives. And it was an honour, an honour to work on that song and again make these into five. But over that journey, we've seen how important a charity song can be."
"Yeah, the impact it can have on charity is incredible and for everyone, It's changed," added Roxanne. "There's still a lot more change that needs to happen but we've sene firsthand what it can do to a charity. So we want to pass the baton over and say if there is anyone who is donating to charity this Christmas with a song, go for it."
However, Ladbaby hasn't ruled out competing in the future.
He added: "So, the baton is passed over, I'm just going to say, I'm not retiring. This isn't me done for good. I'm just saying I'm out this year."
LadBaby's journey started in 2018 with We Built This City followed by I Love Sausage Rolls (2019), Don't Stop Me Eatin' (2020), Sausage Rolls For Everyone with Ed Sheeran and Elton John (2021) and Food Aid (2022).
LadBaby | Sausage Rolls for Everyone (Official Music Video) - featuring @EdSheeran & @EltonJohn