UPDATE: Jesse Hughes Deletes Anti-Gun Posts
26 March 2018, 16:01 | Updated: 27 March 2018, 16:32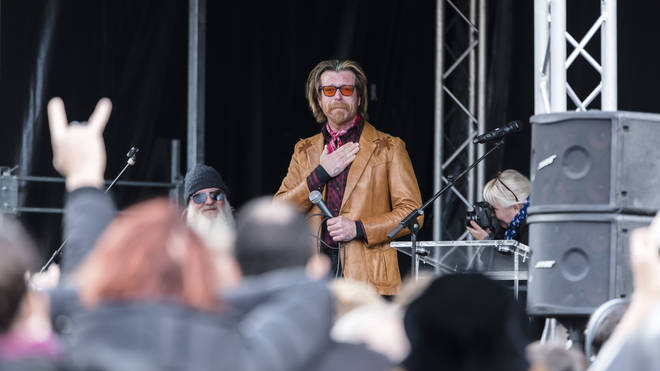 The Eagles Of Death Metal rocker condemned the March For Our Lives protesters and accused students of using the death of their friends to play "hooky".
Jesse Hughes has deleted his social media posts after blasting those who took part in the March For Our Lives protests.
This Saturday (24 March) saw events take place across the US and the world, with the survivors of the 14 February mass shooting at Marjory Stoneman Douglas High School in Parkland, Florida descending on the US Capitol building.
However, the Eagles Of Death Metal singer - who was tragically caught in the 2015 Paris terror attack at the Bataclan - took to Instagram to share a controversial image and suggest that the students were insulting the memory of those killed.
His rant began: "Obviously....The best thing to do to combat chronic abusers and disregarders of the law(like the law against Murder) is to........pass another Law!.....Genius!!!......"
See one his original post here: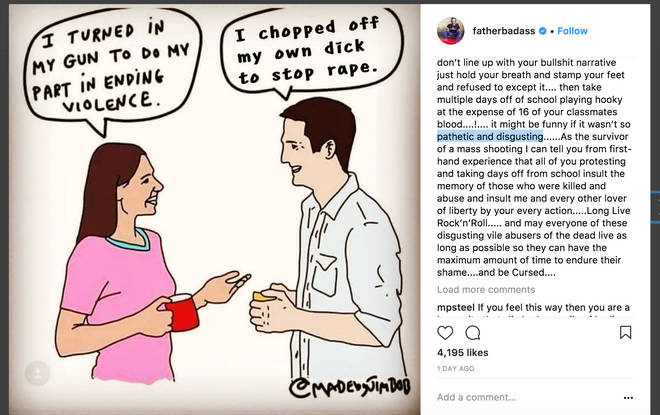 The I Love You All The Time singer continued: "but before we pass this law we're going to denigrate the memory and curse ourselves by exploiting the death of 16 of our fellow students for a few Facebook likes and some media attention....and look how well civil rights abuses as it concerns firearms helped to protect me and my friends in Paris!!!!!"
He added: "This almost sounds like the plan of like a kid maybe like a high school student....!. Oh wait that's right.... The Whitney Houston song about letting the children lead the way wasn't actually had operating paradigm for life.....And when the truth don't line up with your bullshit narrative just hold your breath and stamp your feet and refused to except it.... then take multiple days off of school playing hooky at the expense of 16 of your classmates blood....!.... it might be funny if it wasn't so pathetic and disgusting......
"As the survivor of a mass shooting I can tell you from first-hand experience that all of you protesting and taking days off from school insult the memory of those who were killed and abuse and insult me and every other lover of liberty by your every action.....
He concluded: "Long Live Rock'n'Roll..... and may everyone of these disgusting vile abusers of the dead live as long as possible so they can have the maximum amount of time to endure their shame....and be Cursed...."
Now, after receiving a considerable backlash, his post has since been deleted, with no further comments yet made.
Meanwhile, Paul McCartney made an appearance in New York in support of the protest.
Wearing a t-shirt that read "WE CAN END GUN VIOLENCE," The Beatles legend told CNN: "One of my best friends was killed in gun violence right around here, so it's important to me."
Watch his interview here:
Paul McCartney, who is marching in NYC, tells CNN: "One of my best friends was killed in gun violence right around here, so it's important to me.." It's been 37 years since John Lennon was gunned down outside of his apartment in Manhattan. pic.twitter.com/DH0WRc3aY0

— Yashar Ali 🐘 (@yashar) March 24, 2018
Asked if the marches could end gun violence, the he said: "I don't know. But this is what we can do, so I'm here to do it."
John Lennon was murdered in December 1980 outside his home in New York, aged just 40.
The man who shot Lennon, Mark David Chapman, was denied a parole in 2016 and his next hearing will be in august this year.