Eagles Of Death Metal Commemorate Bataclan Victims
14 November 2017, 10:58 | Updated: 15 November 2017, 10:00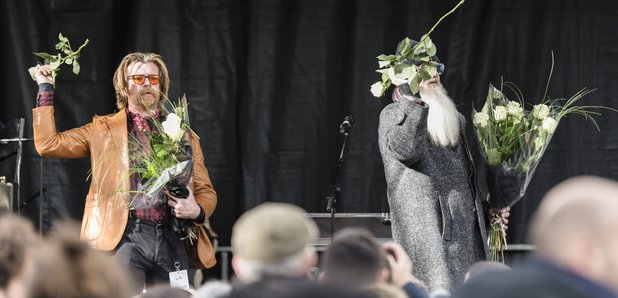 The rock band played a surprise show in Paris to mark the second anniversary of the terror attack.
Eagles of Death Metal played a surprise show in Paris on Monday (13 November) to mark the two-year anniversary since the terror attack at their Bataclan concert.
The US rock band's lead singer Jesse Hughes and guitarist Dave Catching paid tribute to the victims of the atrocity, which saw 89 people lose their lives after ISIS terrorists wearing suicide vests opened fire at their show on 13 November, 2015.
The special event was setup by some of the survivors and held at the French capital's town hall in the 11th arrondissement.
The group dedicated I Love You All The Time and Save A Prayer, which was the last track they performed before gunshots echoed around the venue two years ago, to those who tragically died.
Before giving everyone in the crowd white roses as a sign of respect, Jesse said: "I'm so happy and pleased to see all of you.
"The only reason we're still standing is because you all still love rock and roll."
After the memorial gig, Jesse paid a special tribute to their merchandise seller Nick Alexander who was one of those killed.
Speaking to press, he said: "It is difficult to not to remember the people who were taken from us like our friend Nick Alexander and so many others.
"We watched people give their lives for their friends and we were able to bear witness to that, and now we have a burden of responsibility to make certain that everyone knows that kind of love exists in this world."
Thirty Seconds to Mars - including frontman Jared Leto - also paid their respects yesterday.
Sharing a photo outside the venue on Instagram, the Suicide Squad actor wrote: "Paid a visit to the Bataclan on the anniversary of the horrific tragedy.
"Sending out hearts and thoughts to the victims and their families."
Last year, Sting reopened the Bataclan venue with a charity show on 12 November, just one day before the first anniversary of the attack.
All proceeds raised from the event were donated to Life for Paris and 13onze15: Fraternité Verité, two charities that provide support for victims and their families.