Music World Responds As Donald Trump Is Elected President
9 November 2016, 09:12 | Updated: 5 April 2018, 18:03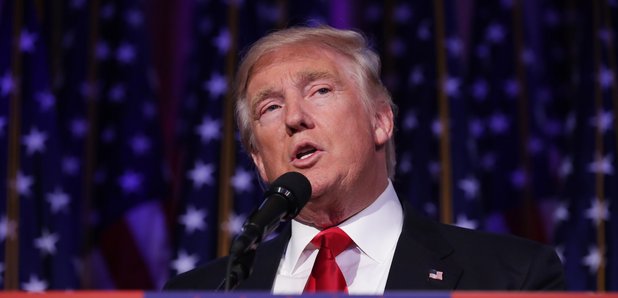 The likes of Courtney Love, Matt Healy, Wolf Alice and more have responded to the historic result.
Regardless of your politics, this American presidential campaign has been the most divisive of our lifetimes. After a vicious and long election process, It's now official that Donald Trump will be the 45th president of America.
And as you can imagine, the musical community has come out in full force to lament and celebrate the result. See responses from The 1975, Cher and more below.
Tom Yorke
The Radiohead star let his Burn The Witch lyrics do the talking:
avoidall eye contactdo not reactshoot the messengersthis is a low flying panic attacksingthesong of sixpencethatgoes https://t.co/xm8Z5l8qQm

— Thom Yorke (@thomyorke) November 9, 2016
Duncan Jones
This looks so quaint, now... pic.twitter.com/I48KEF9f9Q

— Duncan Jones (@ManMadeMoon) 9 November 2016
Scroobius Pip
America.
Take a deep breath.
Shit has gone very bad...but don't make the same mistake Britain… https://t.co/vOVPwTg9VV

— Scroobius Pip (@Scroobiuspipyo) 9 November 2016
Matt Helders
Is Mars ready?

— Matt Helders (@matthelders) 9 November 2016
The Black Keys' Patrick Carney
Courtney Love
umm #imwithhim ?

— Courtney Love Cobain (@Courtney) 9 November 2016
John Niven
Can't wait till trump advances LBGT righ - oh

— John Niven (@NivenJ1) November 9, 2016
Cher
world will never be the same. I feel Sad for the young.will never be more than the toilet, I've used as a symbol 4 Him.
U Can't Polish

— Cher (@cher) November 9, 2016
Matt Healy
I've just seen people crying in the streets of NY out of genuine fear. It's like Cloverfield but less entertaining and more depressing

— matty (@Truman_Black) November 9, 2016
Wolf Alice
We Are Scientists
We have to look at the bright side: pets will probably remain legal, as will warm food, exercise, and chairs.

— We Are Scientists (@wearescientists) November 9, 2016