Mum invoices son after supporting him for a year and adds $1000 "asshole" charge
3 March 2016, 15:28 | Updated: 25 April 2016, 15:07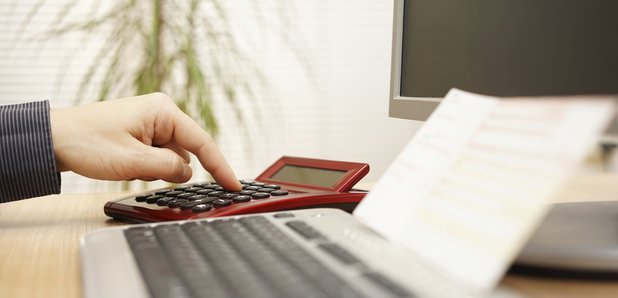 So this is what happens to ungrateful children nowadays...
Doling out money for your ungrateful kids is common for most parents, but for one - who spent a year bankrolling her 23-year-old son - enough was enough.
A mother from Ontario, Canada has decided to invoice her son for 13 months worth of financial support - and she put a few little added extras on there too.
The picture, posted by Reddit user Chalipo, sees the detailed bill, accompanied by the caption: "Mom gave me an invoice for supporting me for 13 months. Charged me $1000 (£500) for being an unappreciative asshole."
See a snapshot of his invoice below: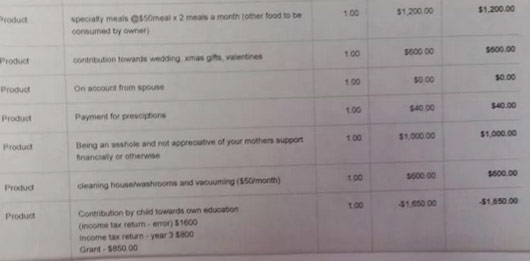 Picture: Reddit/Chapilo/Imagur
Other services include $1,200 for "speciality meals" and $600 for her "contribution towards wedding, xmas gifts (and) valentine's".
The total bill, (including tax) came to $39,254.17 (£20,942).
While education, food and board seemed to be the most expensive charges on the list, her son's attitude proved to be almost as costly.
Under one column, she fines her son the hefty $1000 pounds for: "Being an asshole and not appreciative of your mothers support, financial or otherwise."
That's one way to get him back.
Rather than finding sympathy with the poster, however, most Redditors were more bothered about the way the invoice had been written and its "improper" use of decimals!
However, all's well that ends well, and since posting the note Chalipo explained in further posts that his mother doesn't expect him to pay her back, and the stunt has taught him the error of his ways.
"My mom doesn't expect me to repay her. Her parents charged her interest so she doesn't want to do that to me," the young adult explained.
"This was a very effective parenting technique and it has helped me to realize what an entitled little shit I have been.
"My grandparents charged my mom interest on her school tuition. I am very appreciative and grateful that she didn't include any interest."
He concluded: "My mother is a saint".