This Joke Morrissey Told At Russell Brand's Expense Is Savage
6 June 2017, 16:22 | Updated: 6 June 2017, 16:50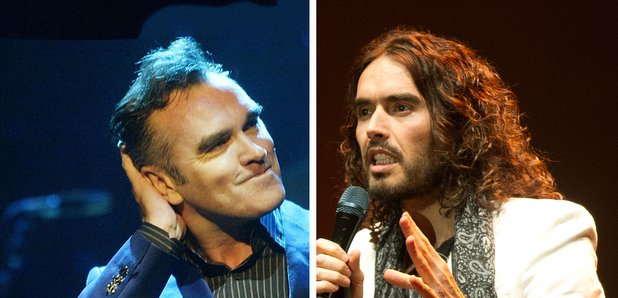 The comedian and Radio X DJ has spoken about his friendship with The Smiths legend, who he admits is "rude" and "hard work".
Anyone who's a fan of Russell Brand knows he's always been huge fan of The Smiths and their formidable frontman Morrissey.
But despite striking up a friendship with the Suedehead singer, the comedian and Radio X DJ has admitted he's "hard work".
As reported by NME, the Trews man recalled a story to Q Magazine about Morrissey in which he cracked a macabre joke at his expense.
Brand recalled: "[Morrissey] came to the show with Victoria Wood, God rest her soul, and Chrissie Hynde, and I was with Alain de Botton, the philosopher bloke. He really liked me, Alain de Botton. He was saying, 'Russell is the most important social commentator of our age, that's the thing. If he wasn't a comedian, people would be saying he's the most significant philosopher of our time. But he is a comedian, there's no box you can put him in.'"
"And Morrissey went, 'How about a coffin?' He's rude. He's got these weird puns. He never fails to call Bryan Ferry 'Bryan Ferret'."
Asked by Q reader if the was "hard", Russell replied: ""He's hard work! Everyone that knows him, even the people you think are as famous to him, really kowtow to him."
"He's got some sort of gravitas," Brand added. "People are properly affected by him."
Watch Russell Brand swap clothes with Matt Morgan in the Radio X studio:
Listen to Russell LIVE on Radio X between 11am and 1pm every Sunday, or catch up with the best bits on this special podcast right here.
And don't forget, you can contact the show at anytime, day or night via russell@radiox.co.uk.