Mike Shinoda Posts First Linkin Park Pic With Chester Bennington
25 July 2017, 10:00 | Updated: 25 July 2017, 18:15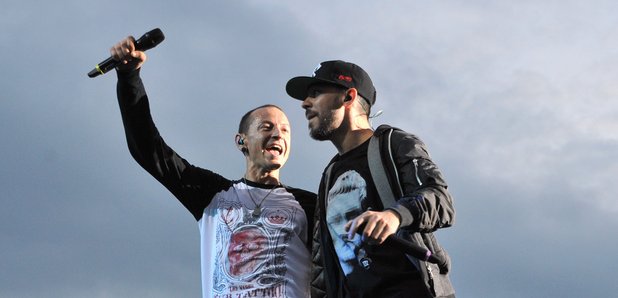 The band's co-founder has shared a touching throwback photo, following the death of their late singer.
Mike Shinoda has shared what he believes to be the first photo taken with the band before they were even called Linkin Park.
The Instagram photo sees the young band lining up for the snap, with the late Chester Bennington - who tragically committed suicide on Thursday 20 July - standing on the far right.
See the picture here, which is captioned: "1997 or 1998...I think this was the first photo we ever took together. We had just told Chester that we wanted him to join the band. He said he was ready to move out from Arizona to L.A. We went to a pizza place near UCLA to hang out and talk about what to do next. The band was called Xero at the time, and we probably had less than a half a dozen songs. No flame tattoos yet, no red hair yet, most of us were still in college."
The touching post comes hours after the band released an official statement and open letter to their bandmate, which begins "Dear Chester".
Read their full statement here.
It came after co-singer and rapper Mike Shinoda verified the news on Friday (21 July), telling fans he was "shocked and heartbroken".
Shocked and heartbroken, but it's true. An official statement will come out as soon as we have one.

— Mike Shinoda (@mikeshinoda) July 20, 2017
The band have since launched a tribute website for the late rocker, containing tributes from Bennington's fans across the world and information on how to seek advice for those contemplating taking their own life.
Blink-182 have also confirmed they will not be going ahead with with the Welcome To Blinkin Park tour.
The All the Small Things rockers were due to share a stage with Linkin Park in joint concerts, but have insisted it wouldn't be "possible" to perform without Numb band.
The trio - comprising of Mark Hoppus, Travis Barker and Matt Skiba - shared a note on Twitter which read: "blink-182 is wrecked by the loss of our friend and amazing musician Chester Bennington. We could never imagine playing blinkin park without his incredible talent and voice.
July 22, 2017
It continued: "It just would not be possible. We send our deepest sympathies to his family, bandmates, friends and fans. Refunds will be available at the place of purchase."
The announcement comes after Linkin Park confirmed the North American leg of their One More Light tour will not be going ahead.
A statement from promoters Live Nation read: "We are incredibly saddened to hear about the passing of Chester Bennington. The Linkin Park One More Light North American Tour has been cancelled and refunds are available at point of purchase. Our thoughts go out to all those affected."
The band were set to continue their One More Light world tour in North America, with a date at The Xfinity Center in Massachusetts on Saturday 27 July.
Linkin Park had just recently toured the UK, playing their last date at Birmingham's Barclaycard Arena on 6 July.
Tributes have continued to pour in from all walks of the music world.
Fall Out Boy rocker Pete Wentz called for people to speak out more about mental health issues.
He tweeted: "Mental health is no joke. We have to destigmatize the conversation around it.(sic)"
Mental health is no joke. We have to destigmatize the conversation around it.

— yung menace (@petewentz) July 20, 2017
Chester was a close friend of Soundgarden frontman Chris Cornell, who took his own life in May, and his death came on what would have been the You Know My Name singer's 53rd birthday.
Cornell's widow Vicky Cornell tweeted: "Just when I thought my heart couldn't break any more."
Just when I thought my heart couldn't break any more.....I love you T

— Vicky Cornell (@vickycornell) July 20, 2017
Billie Joe Armstrong paid tribute to the singer, while also encouraging others experiencing similar struggles to seek help.
The Green Day frontman posted: "i've met Chester a couple times. he was very kind and also very smart. and one hell of a singer. mental health and drug addiction are really complex issues. but just know you are not alone. rest in peace Chester. you will be missed .. suicide prevention hotline: +1 (844) 540-5889 (sic)"
Stormzy - who featured on the band's recent Good Goodbye single - took to Twitter to share his heartache at the news.
Bruv I can't lie I'm so upset serious

— #GSAP (@Stormzy1) July 20, 2017
I am heartbroken you do not know what someone's going through serious. Prayers up for your family right now my brother

— #GSAP (@Stormzy1) July 20, 2017
Listen to Bennington's chilling isolated vocals on Heavy, which is taken from their One More Light album:
See Chris Moyles introduce the star's haunting vocals on Numb:
HEADS TOGETHER
Too often, people feel afraid to admit that they are struggling with their mental health. This fear of prejudice and judgement stops people from getting help and can destroy families and end lives. Heads Together wants to help people feel much more comfortable with their everyday mental wellbeing and have the practical tools to support their friends and family.
One of their partners is the Campaign Against Living Miserably (CALM), an award-winning charity dedicated to preventing male suicide, the single biggest killer of men under the age of 45 in the UK. In 2015, 75% of all UK suicides were male.
CALM offers support to men in the UK, of any age, who are down or in crisis via our helpline, webchat and website.
NATIONWIDE: 0800 58 58 58
LONDON: 0808 802 58 58
Calls are free from landlines, payphones and all mobiles.
For more on Heads Together, see www.headstogether.org.uk
Worried about someone? Click here
https://www.thecalmzone.net/help/worried-about-someone/