Watch The GRAMMYs Play Metallica As Megadeth Win Award
13 February 2017, 12:07 | Updated: 23 February 2017, 19:01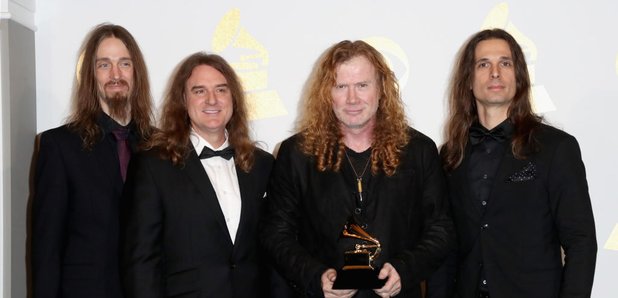 See the Dystopia outfit accept their award to a song from their fellow rockers.
Last night saw Megadeth win a GRAMMY, taking home the prestigious Best Metal Performance gong for Dystopia.
However, the special moment was somewhat ruined when the Heavy Metal band went to pick up their award, to music from fellow rockers Metallica instead.
Watch the moment the band were called up for the performance to Metallica's Master Of Puppets here:
The savagery haha Megadeth win Grammy but play Metallica pic.twitter.com/xf586Nx1Lv

— Poser (@DogxMan) February 13, 2017
Fans were quick to notice the gaffe on Twitter, with some finding it funnier than others.
So they play Metallica when megadeth accepts their award and now they cut James hetfield's mic off lmaoo cool

— SABBATH (@rustinpeace6) February 13, 2017
So James Hetfield's microphone didn't work and Megadeth win an award... I think the Grammy's hate Metallica

— Dan Cadwallader (@Dancad) February 13, 2017
Lol so megadeth won a Grammy but they played metallica as they were walking up to the stage

— Santiago 野蛮人 (@Casteeezy_) February 13, 2017
WHEN MEGADETH WINS THE GRAMMY AND THE SONG THE GRAMMY BAND PLAYS IS A METALLICA SONG pic.twitter.com/V8CkPvHlSq

— Bridgett (@bridgettiscool) February 13, 2017
I suppose it's an easy mistake to make right? It's not as if there was a house band playing each track, rather than a simple mix-up with the tapes right?
Wrong...
So the #GRAMMYs house band played @Metallica's 'Master of Puppets' as @Megadeth walked down the aisle to accept their award. Awkward?

— Graham Hartmann (@grahamwire) February 12, 2017
According to reports, the band graciously accepted their award without mentioning the mix-up.
Pretty classy.
Listen to Metallica's Master Of Puppets below:
And remind yourself of what Megadeth actually sound like (and what they won the GRAMMY for) here: