Metallica Names Justin Bieber Wearing Their T-Shirt In "Top 10 Thingz Of 2015"
16 December 2015, 11:37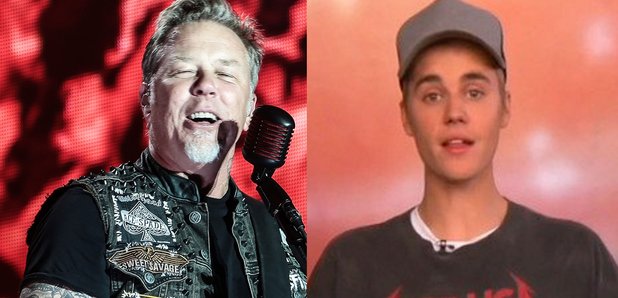 Frontman James Hetfield considers Justin Bieber's choice of t-shirt as one of his highlights of the year.
Metallica's James Hetfield considers Justin Bieber wearing their band t-shirt one of his top moments of 2015.
The popstar may have enraged rock fans when he wore a Metallica t-shirt on the Ellen De Generes show, but apparently, the frontman's pretty happy about it.
On his list, entitled: Papa H's Top 10 Thingz Of 2015, Justin Beiber's controversial fashion statement sits at tenth place on his list, precede by "having fans on stage at gigs'".
These are James Hetfield's top 10 things of 2015: pic.twitter.com/1PvXGJUbes

— The Metal Core (@TheMetalCore) December 15, 2015
Number one on the Enter Sandman rocker's list however is the fact he's "STILL ALIVE!!!" and we couldn't agree with him more!