WATCH: Metallica Sing Disney Songs In The Latest Carpool Karaoke
10 August 2017, 10:52 | Updated: 21 August 2017, 17:56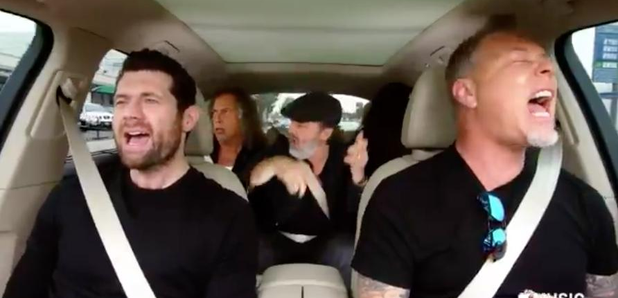 The metal behemoths are the latest band to appear in the web series.
From Stevie Wonder to Red Hot Chili Peppers, almost every musical artist in the business wants a slice of the Carpool Karaoke pie, and Metallica are up next.
The full episode, which will air next week, sees the Enter Sandman rockers singing along to Disney tracks & Rihanna, as well as serenading fans in a supermarket. You can watch the full trailer below.
Carpool Karaoke TV, which is a spin off of the popular James Corden feature, will stream exclusively on Apple TV. While Corden won't star in every episode, he did appear in the series debut alongside Will Smith.
When the Red Hot Chili Peppers performed Carpool Karaoke last year, they became involved in a medical emergency which saw Anthony Kiedis save a baby's life! Watch him tell the story to Chris Moyles here:
Don't expect to see Liam Gallagher in the famous passenger seat just yet though, as he recently branded Corden a "knobhead."
Gallagher Jr recently joined Radio X for an in depth conversation with Chris Moyles. You can watch the full chat below.