McDonald's Are Launching A Table Service, But Are We Buying It?
26 January 2016, 14:52 | Updated: 25 April 2016, 15:13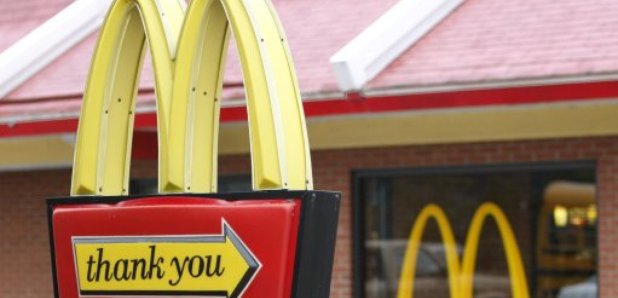 The fast food chain will be rolling out the feature in 400 restaurants.
What do you call McDonald's with table service? Wendy's.
...At least that's what crossed our minds when we heard the fast food chain was set to roll out the feature in UK restaurants.
But after successful trials in 14 branches, the fast food chain has confirmed it will allow customers to place their orders through digital kiosks, and have their meals delivered to them by members of staff.
The feature will appear in 400 McDonald's restaurants by the end of the year and comes along with the launch of their new Signature Collection.
Have you tried #TheSignatureCollection? Available at 29 restaurants, find your nearest at https://t.co/HjRKEUXfHs pic.twitter.com/HRzJHWCfBh

— McDonald's UK (@McDonaldsUK) January 21, 2016
Most people have reacted to the change by thanking Maccy D's for helping customers stay "lazy" and allowing the fat to get fatter:
Omg they're trying table service at McDonald's.... I mean wtf it's fast food not a freaking dine-in restaurant

— Cheyenne Chesman (@cheyennechesman) January 20, 2016
Soooo @McDonalds has table service now? Like actually servers? They're mission really is to make people more lazy and fat.

— Jerry Sandoval (@WatWouldJerryDo) January 19, 2016
However, we can't help thinking McDonald's is going all posh and retro in a bid to cover all its bases and capture those who aren't indulging in their guilty pleasure.
We don't know about you, but part of the beauty of going to MacDonald's is being able to pick it up that little brown packet and escape - especially while nursing a hangover. But would table service mean actually having to sit and enjoy our food rather than scoffing it down in 30 seconds flat?
Or worse - will it mean not being able to find a seat in your local branch after a night out, or would we cease to stumble in wearing our pjs for fear of ruining someone's romantic meal or a family night?
Surely not?!
While, some of you might be thinking: What next? McDonald's launching a delivery service? It turns out they get asked that question almost every day, and have posted a response on their website about it.
It reads: "We are committed to serving our customers hot food, fresh from the kitchen. We have previously considered introducing a home delivery service in the UK and have even trialled it in a number of locations. However, we found that a delivery service would not be able to adequately meet our quality commitment to serving hot, freshly prepared food every time to off-site locations.
"We are therefore not in a position to support other delivery ventures in the UK as we could not guarantee this quality commitment to our customers.
We're safe... for now.
While the news of table service has served up plenty of debate in the Radio X office, we can't help thinking if the announcement isn't just a nice bit of advertising to get us walking towards those golden arches.
We'll let you know if it worked right after we finish our Milkshake and fries...