Manchester Is Now A Better Place To Live Than London: OFFICIAL
19 August 2016, 08:15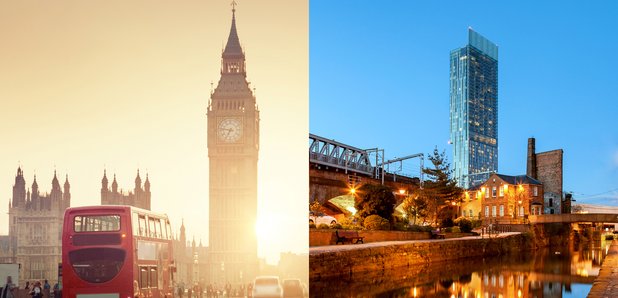 The annual poll of the "most liveable cities" in the world has been published… and the North has beaten the South!
The Economist newspaper have published their 2016 Global Liveability Report, based on the best and worst living conditions in different parts of the world.
For the second year running, London is languishing down at Number 53 - ten whole places behind its North Western colleague, Manchester.
Coming out tops is the Australian city of Melbourne, with the European capital Austria in second place.
Over 100 cities were assessed in terms of stability, healthcare, culture and environment, education and infrastructure.
"London is actually a very liveable city," the report's editor Jon Copestake told The Independent. "Its score puts it in the very top tier of liveability and even though it ranks lower than Manchester the differences are small.
"Cities that have a big city buzz and attract lots of people tend to also have greater congestion as well as higher crime rates. In London's case, as we have seen in the past, it also makes the city a target for terrorism. In many ways, factors that weigh on London's liveability score reflect that it is a victim of its own success".
So there you are. Is this report accurate or nonsense?
The Top 10 Most Liveable Cities:
1. Melbourne, Australia
2. Vienna, Austria
3. Vancouver, Canada
4. Toronto, Canada
5. Calgary, Canada
6. Adelaide, Australia
7. Perth, Australia
8. Auckland, New Zealand
9. Helsinki, Finland
10. Hamburg, Germany
Meanwhile, no great surprises for the bottom ten, which are some of the most troubled parts of the world at the moment
The Bottom 10 Worst Liveable Cities
1. Kiev, Ukraine
2. Douala, Cameroon
3. Harare, Zimbabwe
4. Karachi, Pakistan
5. Algiers, Algeria
6. Port Moresby, Papua New Guinea
7. Dhaka, Bangladesh
8. Lagos, Nigeria
9. Tripoli, Libya
10. Damascus, Syria