This Guy Got The Contents Of His Wallet Returned With The Most Frank Letter Ever...
17 February 2016, 13:40 | Updated: 25 April 2016, 15:11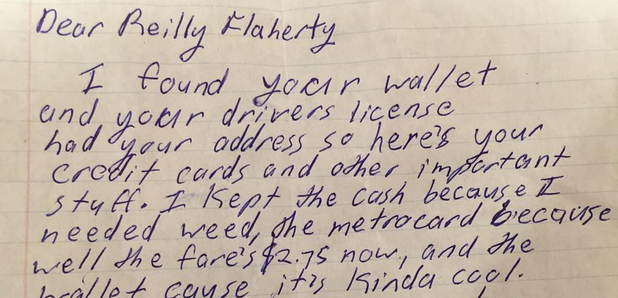 The Good Samaritan admitted they "needed weed."
A man lost his wallet in New York and had some of its contents returned to him... with a very honest note attached to it.
Reilly Flaherty posted a letter written by the helpful stranger, who admitted they kept his money because they "needed weed", his Metrocard because the fare's gone up and his wallet just because he thought it was "kinda cool".
The letter read:"Dear Reilly Flaherty,
"I found your wallet and your drivers license and your address so here's your credit cards and other important stuff. I kept the cash because I needed weed, the metrocard because well the fare's $2.75 now, and the wallet cause it's kinda cool. enjoy the rest of your day. Toodles, Anonymous"
Flaherty posted the full note on his Instagram with the caption:"thanks... I think?"
Fair enough, mate.
After asked for a response by Mashable, Flaherty proved he saw the funny side, writing: "To be honest, I was thinking this person is the Walter White of wallet returning.
"They start out with seemingly good intentions, but then you quickly realize they're actually just a villain plagued with an insatiable appetite for MetroCard spending and marijuana-infused subway rides, hurting everyone they love around them.""
Read his full response below:
Bravo!