Man Slides Down Tube Escalator, Fails Miserably
15 February 2016, 15:53 | Updated: 25 April 2016, 15:12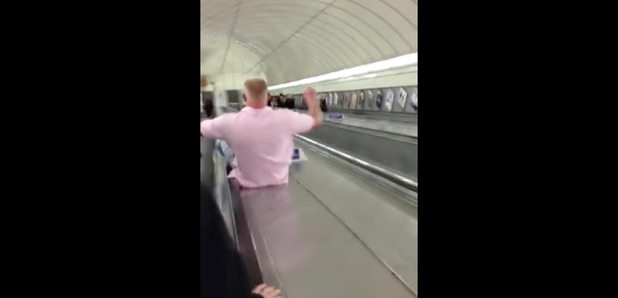 Transport for London officials have condemned the man's actions.
Video footage of a man attempting to slide down the side of a tube escalator has captured the nation's imagination... mainly because of how stupid it is.
In the Facebook clip posted by user Bailey88, a pink-shirted man can be seen sliding in-between the tube handrail, while his friends laugh hysterically behind him.
However, it doesn't take long for him hit one of the signs, fall off the escalator and almost seriously injure himself in the process.
Seriously, DO NOT try this at home kids.
How not to use an escalator!! (excuse my laugh ) SHARE!!!

Posted by Bailey88 on Friday, February 12, 2016
Transport for London has since condemned the man's "dangerous" actions.
According to The Independent Mark Evers, Director of Customer Strategy for London Underground, said: "Safety is our top priority and pranks like this are dangerous for not only those involved but also to other customers.
"We have frequent PA announcements reminding customers to be careful when using escalators, and we also run safety campaigns throughout the year to encourage customers to take care whilst traveling on our network."
Speaking to the Evening Standard, video poster David Bailey explained: "We were all egging my other mate on to do it. It was a bit stupid, not the best idea we've ever had."
He added: "He carried on drinking and went out afterwards. He said he woke up in the morning and he couldn't move for the rest of the week."