WATCH: Man Breaks Into Five Guys, Grills Himself A Cheeseburger...
12 April 2016, 15:24 | Updated: 25 April 2016, 13:24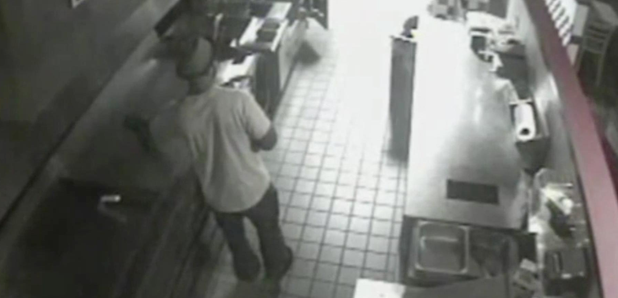 Washington DC Police are looking for a man who broke into the fast food store.
Have you ever craved fast food so much, you just HAD to have it right there and then? Well, this guy went to extremes to get his hands on his favourite burger and fries.
A video has been released by Washington DC police, which sees a "burglary suspect" break into Five Guys... only to make himself a cheeseburger.
Watch it below:
Police looking for burglary suspect who snuck into a Five Guys in DC and fired up the grill. https://t.co/WKePyK5aoghttps://t.co/30D17j1NeL

— ABC News (@ABC) April 11, 2016
The brazen perpetrator can also be seen looking around the staff area and sipping on a drink, while looking straight into the camera.
He was nothing but measured in his approach though.
According to ABC News, the burglar managed to sneak in to the restaurant by following a delivery man inside and waiting until he left.
The website adds that the man treated himself to a "fountain beverage" before cooking a "run-of-the-mill cheeseburger" and stealing a bottle of water.
He's definitely not the sharpest tool in the box, but he clearly has a passion for the brand...
Maybe they could offer him a job?