Live events cancelled following Paris terror attacks
16 November 2015, 06:00 | Updated: 16 November 2015, 11:39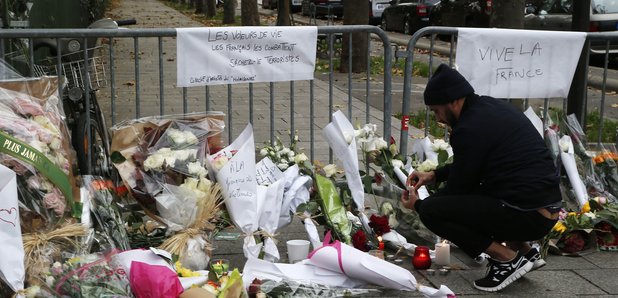 Both U2 and Foo Fighters have postponed forthcoming shows in the French capital, after Paris was put into a state of emergency.
129 people died and 352 were injured in the co-ordinated attacks on Friday night (13 November), which saw terrorists target a show by the US band Eagles Of Death Metal.
Sky News reports that at least 80 were killed at the gig, which was taking place at the city's Bataclan venue.
Members of the audience were taken hostage until the police stormed the building, which is located in the 11th arrondissement of Paris.
Eyewitnesses described the scene as "a bloodbath".
Eagles of Death Metal band members reported safe https://t.co/tpxRqP3lfy pic.twitter.com/FsCQnHZop1

— Los Angeles Times (@latimes) November 14, 2015
Queens Of The Stone Age frontman Josh Homme was not performing with the band, but the gig was attended by We Are Scientists guitarists Keith Murray.
Hey, guys. Thanks for your concern. Keith is in Paris tonight but is safe.

— We Are Scientists (@wearescientists) November 14, 2015
Also at the gig were fellow Californians Deftones, who were due to play Le Bataclan on Saturday, Sunday and Monday. According to reports in the LA Times, the band left the Eagles Of Death Metal show just fifteen minutes before the attack began. In a statement, the band said:"With our deepest condolences, love and respect to everyone affected, and to all of us who share this planet, we must return home to our loved ones. We will return when appropriate. Until then, please never forget the power of gathering."
Also performing in the city on Friday night were British band Wolf Alice, who were playing La Cigale.
Our thoughts are with Paris and all those affected by last nights events. We are all safe and as it stands on our way to Nantes for the show

— wolf alice (@wolfalicemusic) November 14, 2015
U2 cancelled their two high-profile shows at the AccorHotels Arena on Saturday 14 and Sunday 15 November, while Foo Fighters have cancelled the rest of their European tour, which was due to take in Turin (Saturday 14 November), Paris (Monday 16 November), Lyon (Tuesday 17 November) and Barcelona (Thursday 19 November).
In a statement, the band said: "It is with profound sadness and heartfelt concern for everyone in Paris that we have been forced to announce the cancellation of the rest of our tour. In light of this senseless violence, the closing of borders, and international mourning, we can't continue right now. There is no other way to say it. This is crazy and it sucks. Our thoughts and prayers are with everyone who was hurt or who lost a loved one."
with profound sadness & heartfelt concern, we are forced to announce the cancellation of the rest of our tour. read: https://t.co/3XqW7p9VUi

— Foo Fighters (@foofighters) November 14, 2015
Editors were due to play in Lyon on Sunday night, but pulled the show out of respect for the three days of national mourning in France. Authorities have banned public demonstrations until Thursday.
It's been reported that 99 people are in a critical condition after the attacks, which French President Francois Hollande has described as an "act of war".
Eight attackers were killed - seven died in suicide blasts, which targeted the Stade de France stadium that was hosting a football match between France and Germany.
Islamic State has claimed responsibility, saying the the attacks were "a response to insults of the Prophet Muhammed and airstrikes in IS territory".